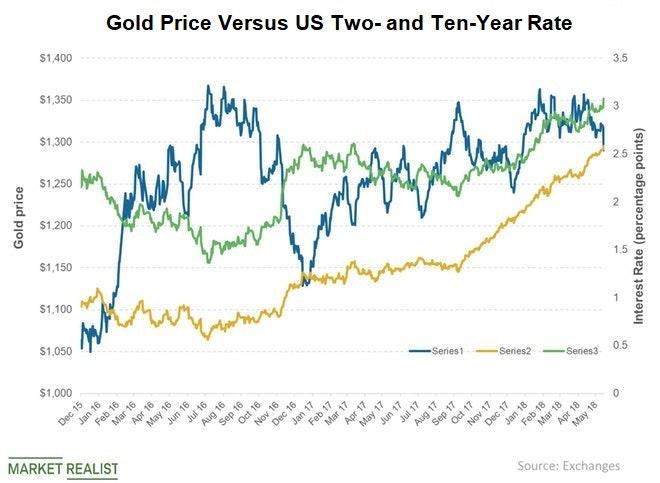 Why the Bottom for Gold Could Be Close
Gold's weakness could reverse
The SPDR Gold Trust ETF (GLD) has fallen ~8.4% year-to-date and ~11.5% from its April peak. The sentiment for gold is quite bearish right now. However, as we've noted in this series, this scenario could be about to change.
September is usually a stronger month for gold after the summer doldrums. In this September, however, investors could remain in a wait-and-see mode until the Federal Reserve's September 25–26 meeting is over. The Fed is widely expected to raise rates by 25 basis points. After that, gold prices could rally as the near-term catalyst for weakness is over.
Moreover, the Fed might also sound more dovish as it has done on previous occasions such as the August meeting minutes and the recent symposium. This could go a long way in restoring gold's investment appeal.
Article continues below advertisement
A seasonally strong period ahead
Historically, gold prices have declined in the summer months, only to climb in August onward due to the seasonal pattern of demand for gold. Physical gold demand from Asian countries such as India (INDA) supports its price after that. Indian wedding season and post-harvest period should support gold prices. As we've already highlighted, Indian gold imports more than doubled in August.
Factors that could reverse gold's slide
The US dollar (USDU) has been gaining as a safe-haven asset as trade concerns heighten. However, a further escalation in the tariff dispute and back-and-forth tariffs from China could mean a negative impact on the real activity in the United States (SPY) (VOO), which could eventually affect the dollar.
Markets seem to have priced in the policy divergence theme and the rate hike (TLT) trajectory by the Fed. This could mean a limited upside for the dollar (UUP) and even weakness going forward, which could benefit gold.
The current technical indicators also indicate an extremely oversold position for gold. At the extremes, these usually indicate a change in direction.