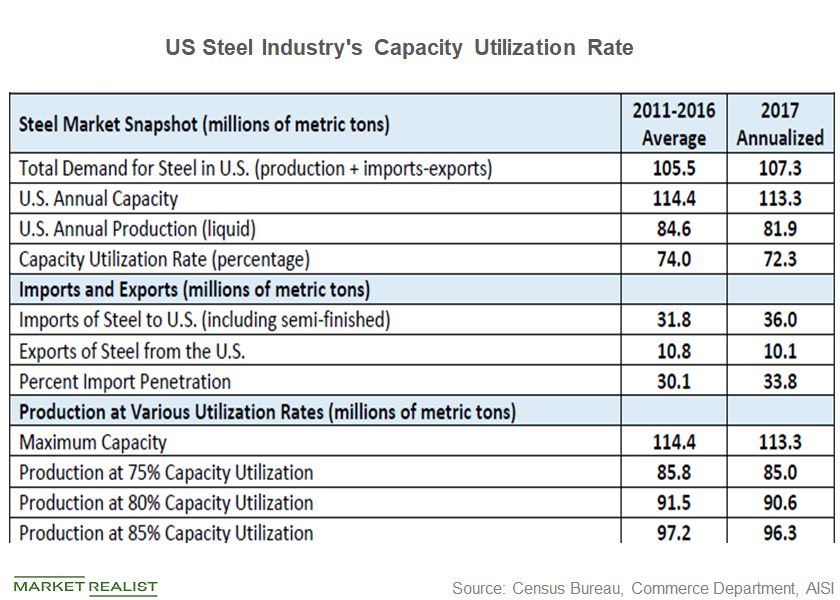 Why Section 232 Exemptions Are a Litmus Test for President Trump
By Mohit Oberoi, CFA

Sep. 5 2018, Updated 7:32 a.m. ET
Section 232 exemptions
The Section 232 tariffs imposed by President Trump have a scope for exemptions. The exemptions are on two levels. First, there are country exemptions that South Korea and Australia have received. Along with the country exemptions, the Trump administration has also allowed for product exemptions for steel and aluminum products that cannot be manufactured in the country. Incidentally, even Alcoa (AA), the leading US-based aluminum producer, has applied for exemptions for some aluminum products it ships from Canada to the United States (SPY). The US energy industry has also been seeking exemptions for several steel products. However, US steel producers like U.S. Steel (X) and AK Steel (AKS) have opposed most exemptions.
Article continues below advertisement
Commerce Department
Last week, in a press release, the US Commerce Department said, "President Donald J. Trump signed a proclamation allowing Secretary of Commerce Wilbur Ross to provide targeted relief from quotas imposed under Section 232 on steel from South Korea, Argentina, and Brazil, and aluminum from Argentina." The press release also says, "Companies can apply for product exclusions based on insufficient quantity or quality available from U.S. steel or aluminum producers. In such cases, an exclusion from the quota may be granted and no tariff would be owed." US steel and iron stocks including Cleveland-Cliffs (CLF) saw a selling spree after the news.
Litmus test
Managing the expectations of both upstream steel producers and downstream steel consumers is a key litmus test for the Trump administration. However, the process of granting Section 232 exemptions has been slow, which has irked downstream steel users.
In the next article, we'll analyze whether countrywide exemptions could render the Section 232 tariffs less powerful.