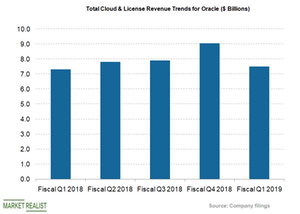 Why Oracle's ERP Product Holds the Key to Its SaaS Cloud Success
By Aaron Hemsworth

Sep. 24 2018, Updated 12:30 p.m. ET
Acquisition driving SaaS
Oracle (ORCL) continues to boost its ERP (enterprise resource planning) product portfolio, mostly through acquisitions and launching new products. In April, it bought SparklineData, which offers smart data warehouse solutions. That month, it also acquired Vocado, a cloud-based financial aid solutions provider.
These acquisitions could allow Oracle to not only step up its SaaS (Software as a Service) business but also keep pace with other cloud operators such as Amazon's (AMZN) AWS (Amazon Web Services) and Microsoft's (MSFT) Azure cloud platform.
Article continues below advertisement
From the graph above, you can see Oracle's total cloud and license business, comprised of both Application and Platform and Infrastructure revenues, which grew at a CAGR (compound annual growth rate) of 0.6% in the last five quarters. In the first quarter of fiscal 2019, Application and Platform and Infrastructure revenues increased 65 and 1%, respectively, YoY (year-over-year).
ERP products are the key performers
Oracle dominates the ERP cloud market with ~20,000 Fusion and NetSuite customers. It exited the first quarter of fiscal 2019 with ~5,500 Fusion ERP customers. In that same quarter, the NetSuite ERP customer count was ~15,000.
Most of Oracle's new ERP clients came from SAP[1. Systems Applications and Products] on-premise and Workday (WDAY) cloud ERP systems. Around 66% of its applications support revenue came from ERP or HCM (human capital management) adoption. The ongoing shifting of workloads and applications to the Oracle cloud by existing clients may continue to drive Oracle's SaaS business.
In the last 12 months, revenue generated from the SaaS cloud category is mostly recurring in nature. The company reported 40% growth in Fusion ERP revenue in the first quarter of fiscal 2019. Its NetSuite business had a great run in the reported quarter. It saw ~39% YoY growth in bookings in the first fiscal quarter. Oracle also anticipates double-digit revenue growth from its SaaS ecosystem in fiscal 2019.