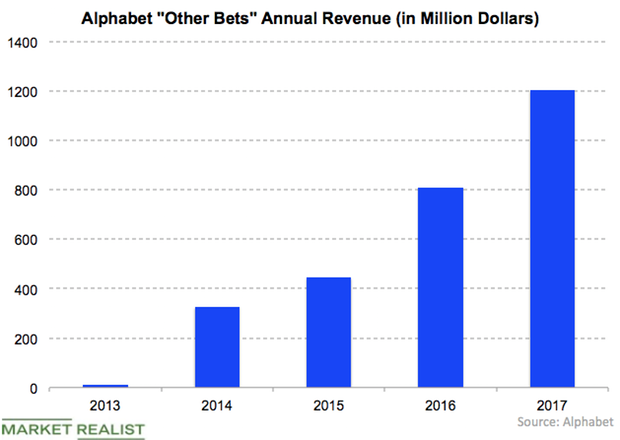 Why Morgan Stanley Likes Alphabet
Alphabet's core business continues to do well
Google-parent Alphabet (GOOGL) had a decent second quarter. Its stock reached an all-time of $1,287 in late July. However, the stock has fallen 8% since. Alphabet now has a market cap of $818 billion and has slipped to fourth in that regard. Microsoft's (MSFT) stellar rally saw it pass Alphabet to take the third position. The software giant now has a market cap of $868 billion, and is currently at its all-time high. The Internet giant continues to see robust ad revenue growth, and its traffic acquisition cost as a percentage of revenue declined in the previous quarter. However, the stock has been declining due to worries about stricter government regulations, which could increase Google's expenses.
Article continues below advertisement
Why the stock could rise
According to investment bank Morgan Stanley, investors are undervaluing the stock because they aren't factoring in the tech giant's self-driving business, Waymo.
The investment bank said on September 12 that it sees the company on the path towards the $1 trillion valuation mark. The brokerage is bullish about Waymo's upcoming robo-taxi business and continues to see strength in its ad business.
While Waymo might miss the year-end's launch target, it is the leader in the autonomous vehicle field.