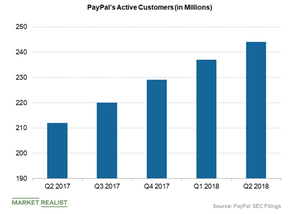 Why KeyBanc's Analyst Is Optimistic about PayPal Stock
KeyBanc analyst upgraded PayPal stock
PayPal Holdings (PYPL) has recently been upgraded by an analyst at KeyBanc Capital Markets for the company's new Venmo debit card. On September 11, KeyBanc analyst John Beck raised the price target on PayPal stock to $105 from $100. According to the analyst, the Venmo debit card would provide users with a P2P (peer-to-peer) money-transfer service, thus attracting more business.
Beck expects Venmo's P2P volumes to reach $93 billion by 2019. He also estimates that every $5 billion worth of spending on Venmo debit cards could boost PayPal's earnings by $0.02 per share.
Article continues below advertisement
Venmo debit cards
PayPal's Venmo is one of the most widely used mobile apps for P2P payments in the United States. In June, PayPal rolled out a Venmo debit card for its Venmo app users to broaden its reach.
Venmo's debit card users can withdraw up to $400 daily and can also use their Venmo mobile app balances in stores for payments. With the debit card rollout, PayPal hopes to gain an edge over its rivals in the increasingly competitive digital payment landscape—especially in the P2P sector.
Venmo competes with Cash App, Square's (SQ) mobile payment app, and bank-backed Zelle, which allows for the quick transfer of money on smartphones between family and friends. While Venmo processed payments worth $12 billion in the first quarter, more than $25 billion moved through Zelle's network in the same period. Square does not disclose transaction volumes for Cash App. PayPal, Square, and Amazon (AMZN) also extend small loans to their customers. Square, for instance, has facilitated ~$3 billion in small business loans since 2014.
PayPal's growing customer base
PayPal's customer base has been increasing since it spun off from eBay (EBAY) in 2015. In its recently reported second quarter, PayPal's active customers totaled 244 million, higher than its 212 million users in the second quarter of 2017.