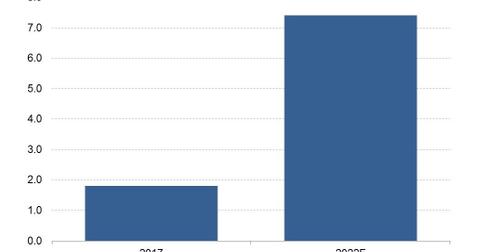 Why Google Is Expanding in Chile
By Neha Gupta

Updated
Google sees Chile as favorable for investment
Alphabet's (GOOGL) Google is investing $140.0 million to expand its data center in Chile. That amount is in addition to the $150.0 million the company spent to set up the data center, which kicked into full operation in 2015.
Chile hosts Google's only data center in Latin America. Google parent Alphabet generated second-quarter revenues of $1.8 billion from Latin America and other American markets outside the United States. Its revenues from the region rose 31.0% year-over-year.
Article continues below advertisement
Google told Reuters on September 12 that it's been encouraged to expand in Chile because the country offers a straightforward regulatory infrastructure. Google added that the country's environment for foreign direct investment is favorable. The company is also encouraged by the availability of renewable energy in Chile.
Google utilizing AI to enhance cloud offerings
Since opening a data center in Chile, Google has been able to improve its capacity in artificial intelligence. In the race for the $186.4 billion revenue opportunity in the global cloud computing market this year, companies such as Google are leveraging AI technology to help them win customers.
Google currently lags behind Amazon (AMZN), Microsoft (MSFT), and IBM (IBM) in terms of cloud market share, according to Synergy Research estimates. Google held 6.0% of the global cloud market exiting the second quarter, compared to Amazon's 34.0% share, Microsoft's 14.0% share, and IBM's 8.0% share. Alibaba (BABA) held about 5.0% of the global cloud market at the end of the second quarter.
Latin America's cloud market is expanding 31.9% annually
Google's latest investment could help it triple the size of its data center in Chile, which could help the company expand its cloud capacity and compete more effectively in the Latin American cloud market. The market for cloud services in Latin America is poised to hit $7.4 billion by 2022, an increase from $1.8 billion in 2017. This market is expanding at the rate of 31.9% annually, according to Frost & Sullivan.