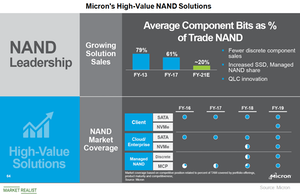 Why Fiscal 2019 Could Be Micron's Year of Transition for NAND
By Puja Tayal

Updated
Micron's NAND business in fiscal 2018
In fiscal 2018, Micron Technology (MU) focused on developing high-value NAND (negative AND) solutions. It improved its high-value NAND product mix from 40% in fiscal 2017 to 60% in fiscal 2018. Its SSD (solid state drive) revenue reached $2 billion during the year, with strong growth in enterprise SATA (Serial Advanced Technology Attachment) SSD.
In its fiscal Q4 2018 earnings call, Micron's CEO Sanjay Mehrotra stated that a third-party research firm has recognized Micron as the market share leader in the enterprise SATA SSD space.
Article continues below advertisement
Micron's investment in NAND technology
In fiscal 2019, Micron plans to maintain its share in the SATA SSD market while transitioning to future NAND technologies.
NVMe SSDs
Mehrotra also stated that Micron is currently developing its first-generation NVMe (non-volatile memory) SSDs and plans to roll out the complete portfolio throughout 2019. It plans to first roll out consumer and client NVMe SSDs, followed by cloud and enterprise NVMe SSDs in late 2019.
QLC SSDs
Micron also plans to transition to QLC (quad level cell) SSDs in 2019 and beyond. It developed the industry's first QLC 3D NAND in collaboration with Intel (INTC) in fiscal 2018. Mehrotra said the NAND industry's transition to QLC will take a few years as it did for the transition to MLC (multi-level cell) and TLC (triple-level cell). However, QLC solutions could start generating revenue for Micron in 2019.
So 2019 could be a year of transition for Micron. During that phase, Mehrotra expects the company's SSD market share to remain flat. However, he expects it to grow again in 2020 when it brings its full NVMe SSD portfolio to the market with product qualifications.
By investing in these solutions, Micron aims to improve the mix of its high-value NAND solutions to 80% of NAND revenue by 2021. It's also investing in NAND manufacturing technologies to remain cost-competitive. We'll look at that in the next part of this series.