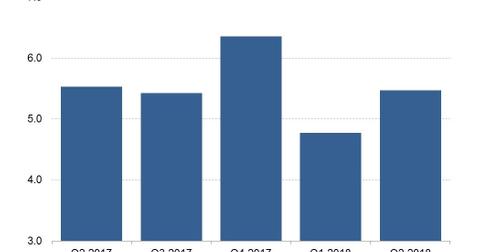 Why Ericsson Is Expanding in the US
By Ruchi Gupta

Updated
Getting closer to its main customers
Ericsson (ERIC) has recently disclosed plans to expand in the United States. As part of the expansion, the company intends to hire 380 people and begin manufacturing some network gears in the country before the end of the year.
The reason behind Ericsson's expanding in the United States is that Ericsson wants to be closer to its key customers and increase flexibility in its global supply chain by doing some manufacturing in the country. The company already does manufacturing in Mexico, Estonia, India, and China.
Article continues below advertisement
Verizon is one of Ericsson's key customers
Ericsson counts Verizon (VZ) among its key US customers. Verizon is the largest mobile network operator in the United States, with 152.7 million wireless customers as of the end of the second quarter. In July, Ericsson and Verizon expanded their partnership, whereby Verizon handed more footprints to Ericsson.
Since Verizon is also a large Nokia (NOK) customer, Verizon's handing more business to Ericsson was seen as a blow to Nokia, but Nokia has said that it's not losing US market share to Ericsson. Shortly after Ericsson and Verizon expanded their partnership, Nokia inked a $3.5 billion multiyear 5G buildout contract with T-Mobile (TMUS), the fastest-growing mobile operator in the United States.
T-Mobile and Sprint (S) expect to invest as much as $40 billion in network upgrades if they're allowed to combine. The two rivals are seeking to merge in a deal valued at ~$26 billion.
Total of 500 million 5G subscribers in North America
As the United States is expected to lead the 5G network deployment race, Ericsson says there may be as many as 500 million 5G subscribers in North America by 2023. Globally, Ericsson predicts that there will be 1 billion 5G subscribers by the end of 2023.
Ericsson made $5.5 billion in revenue in the second quarter. About one-quarter of the company's sales come from the United States.