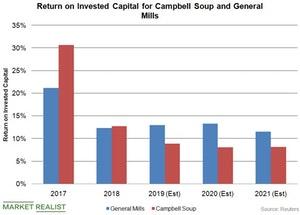 Why Consider Moat Stocks?
By VanEck

Oct. 1 2018, Updated 6:58 a.m. ET
VanEck
Moat Stocks: Process Is a Success Factor
At VanEck we are big fans of Morningstar's Equity Research—not only because their analysis informs moat-oriented indices that underlie the moat mutual fund and ETFs that we offer globally. Morningstar's moat-oriented index methodologies apply a consistent process to identifying companies with durable competitive advantages and assessing their value.
With over 100 analysts globally helping to identify dominant players in different industries, perhaps the most powerful attribute of Morningstar's process is the price-to-fair value metric. This forward-looking assessment provides a view of the current valuation of a company in the context of its future prospects and helps increase the probability of finding mispriced stocks.
Article continues below advertisement
As an example of how this process can play out, consider Campbell Soup, General Mills, and Kraft Heinz, several of the companies mentioned in the article. These are food and drink companies that have had to fend off assaults on their moats by technological disruption in distribution and brand-building.
Campbell Soup and General Mills are currently "wide moat" companies, according to Morningstar, meaning they expect the firms' returns on invested capital to remain above its cost of capital over the next 20 years.
However, according to Morningstar's price-to-fair value metric, their stock prices had been overvalued since early 2016. Not until their price fell below fair value earlier this year did Morningstar select the stocks for inclusion in the Morningstar Wide Moat Focus IndexSM .
Market Realist
The advantage of wide-moat stocks
Morningstar assigns a "wide" or "narrow" rating to stocks after careful evaluation. It offers investors a choice to include moat stocks in their portfolio with the Morningstar Wide Moat Focus Index or the U.S. Moat Index (MOAT). This index includes US stocks carrying a wide moat rating.
Campbell Soup (CPB), which holds a "wide moat" rating, has managed to maintain a good return on invested capital over the years despite struggling with its organic revenue growth. To maintain its competitive advantage in the industry, the company announced during its recent earnings call that it's introducing more functional beverages. These beverages include protein drinks, touted to have 70% less sugar than competing brands, and a smoothie beverage that contains 50% less sugar than competitor labels. The company is also targeting core product innovation to improve revenue growth.
General Mills (GIS), another consumer food company, also holds a wide economic rating from Morningstar. General Mills maintains a strong and sustainable competitive advantage. Seeking Alpha's Daniel Seens, CFA, forecasts an 11.5% compound annual rate of return for General Mills over a five-year investment horizon. He believes the company has a competitive edge with an incredible cereal and non-cereal brand portfolio. The company also offers product sustainability and great cash generating power. 
The chart above shows the return on invested capital for both companies.