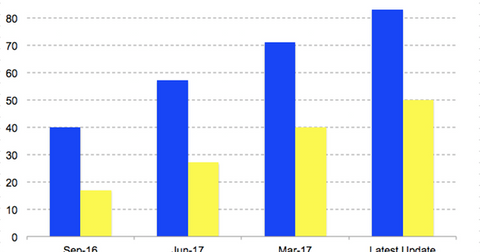 Why Apple's Acquisition of Shazam Is Critical
By Sanmit Amin

Sep. 27 2018, Published 9:28 a.m. ET
Apple has completed the acquisition of Shazam
On Monday, September 24, Apple (AAPL) announced that it has completed its $400 million acquisition of Shazam, a popular music recognition app. The technology giant will soon be making the app ad-free for everyone, which means it's removing the app's free tier.
Shazam can identify a song just by listening to a small portion of it. Shazam is used more than 20 million times per day.
The deal comes three weeks after the European Union gave the Apple-Shazam deal a green light. It didn't find that Apple was in violation of antitrust regulations, despite the fact that Shazam is one of the most popular apps in the music industry.
Article continues below advertisement
Shazam could help Apple Music beat Spotify
How Apple will integrate Shazam's core product into its service is still unknown. Apple could let Shazam remain a stand-alone app, or it could integrate it into its Apple Music service.
Shazam has a colossal database of songs, tastes, and behaviors. It can predict which song is going to be a hit because of all the trend data it has. This data could be vital as Apple Music tries to become the number-one music streaming service.
Apple Music is currently second in terms of global subscribers. It had ~50 million subscribers as of May, while the leader Spotify (SPOT) had 83 million subscribers as of June. Apple has been bridging that gap and could continue to do now that its acquisition of Shazam has been finalized.