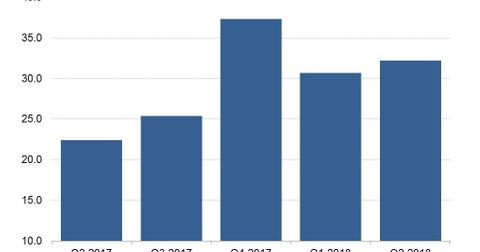 Why Amazon May Be Looking for More Software Engineers
By Ruchi Gupta

Updated
Amazon expands to San Diego tech hub
Amazon (AMZN) is expanding in San Diego, recently opening a new technology hub there and pledging to create 300 new technology jobs. It's looking to hire software engineers in machine learning and fraud prevention at its San Diego hub, according to the Los Angeles Times.
Amazon is a leader in both e-commerce and cloud computing, with Synergy Research taking a 34% share of the global cloud market at the end of the second quarter. That's significantly more than the 14% share of the market held by its next competitor Microsoft (MSFT). IBM (IBM), Google (GOOGL), and Alibaba (BABA) held 8%, 6%, and 5% of the global cloud market, respectively, in the second quarter.
Article continues below advertisement
Amazon pledged to fight for Nike
Amazon has the opportunity to use its dominance in e-commerce to win more cloud customers, and vice versa. With the rise of e-commerce, many retailers are spending a lot on cloud services. But the problem is that some retailers are wary of selling on Amazon's marketplace or running their businesses on Amazon's cloud for fear that Amazon might gain insights into their operations and leverage that knowledge to defeat them.
Amazon seems to be using technology to address those concerns and convert retail rivals into customers or allies as it has done with Nike, Sears, and recently J.Crew. Amazon agreed to help Nike fight unauthorized online listings of its products if Nike would sell its items on Amazon's marketplace, according to a Wall Street Journal report last year.
Using technology to win over critics
Hiring more software engineers could help Amazon create solutions that could turn more of its critics into customers. For example, it could leverage its machine learning and fraud detection tools to help brands fight counterfeiters and other activities that undercut their businesses.
North America is Amazon's largest retail region. Sales increased 44% year-over-year to $32.2 billion in the second quarter.