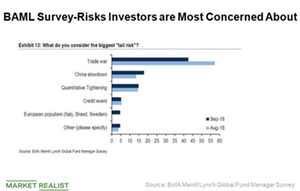 When Will Fed Tightening Start to Hurt the US Economy?
By Anuradha Garg

Sep. 1 2019, Updated 5:51 p.m. ET
US economic outlook is strong
The Federal Reserve's assessment of the US economy is still strong. Yesterday, it raised its outlook for US economic growth for 2018 from 2.8% to 3.1% and for 2019 from 2.4% to 2.5%. However, there are several risks to the US economy, including trade wars and the emerging markets (EEM) crisis, which some believe could derail economic expansion.
Article continues below advertisement
Is the Fed ignoring the risks?
Apart from these risks, market participants are also worried about the gap between policy change and its visible impact on the economy (IVV) (QQQ). The Fed might keep tightening interest rates even after it should have stopped. Investors are concerned that the Fed isn't clear on the neutral policy rate and could keep hiking rates until something actually breaks in the economy.
While the Fed doesn't see much risk of inflation rising substantially above its 2% target rate, it's still forecasting an additional rise of 100 basis points between now and 2021. Heidi Learner, chief economist at Savills Studley, put it this way: "Something doesn't make sense. If core inflation is projected to be close to the Fed's 2 percent core target, why would the Fed continue to tighten beyond the longer-run rate of 3 percent if above-trend growth isn't pushing prices higher?"
Trade wars and other risks facing the US economy
The Fed might keep ignoring the risks that a trade war and the emerging markets (EEM) pose. They haven't started impacting the United States (VTI) but could have a ripple effect. Could the US economy come under pressure sooner than expected? Or in a bid to avoid overheating, could the Fed actually cause a hard landing?