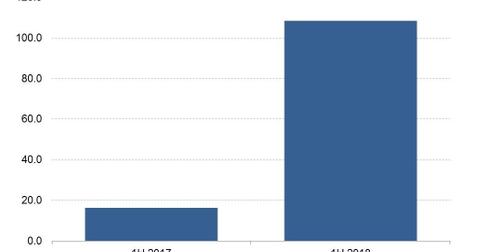 What's the Vision of Tencent-Backed Qutoutiao?
By Neha Gupta

Updated
QTT's IPO raised $84 million
Qutoutiao (QTT), until recently a little-known Chinese online news aggregator, made an attention-grabbing debut in the United States earlier this month. Its stock price rose as much as 191.0% on its first day of trading, and it closed up 128.0%. Its stock was priced at $7.00 for its IPO. Qutoutiao's revenues in the first half of the year reached ~$108.5 million, up sharply from ~$16.2 million in the first half of 2017.
Article continues below advertisement
Qutoutiao sold 12.0 million shares, raising $84.0 million through its IPO. The company intends to use the IPO proceeds to expand its business, particularly improving its content. Qutoutiao collects news articles and videos from various sources, and it presents the content as customized feeds to subscribers on its namesake app. The company is open to using its IPO money to make strategic acquisitions. Like JD.com (JD), Spotify, and Snapchat, Qutoutiao is also backed by Tencent.
Qutoutiao wants to go global
Qutoutiao reaches 17.1 million people daily, who spend nearly an hour on its app each day. It reaches ~32.1 million people per month, according to its IPO filings. Twitter (TWTR) reached an average of 335.0 million people per month, and Facebook (FB) reached an average of 2.2 billion people per month in the second quarter. Snapchat (SNAP) attracted an average of 188.0 million daily users in the second quarter.
Article continues below advertisement
Since its founding in 2016, Qutoutiao has primarily focused on curating online news for people in China's lower-tier cities. These cities see less competition because they aren't the prime targets of China's elite news aggregation apps. However, Qutoutiao has plans to expand into China's higher-tier cities and eventually go global.
China's Internet companies going global
Among China's mainstream Internet companies, Alibaba (BABA) and JD.com are also expanding overseas to diversify their markets and stimulate growth. In 2017, Alibaba opened an office for its Australia and New Zealand region in Melbourne and has made several investments in countries such as India. In June, JD.com teamed up with Alphabet's (GOOGL) Google to help it expand internationally. Google invested $550.0 million in a minority stake in JD.com.