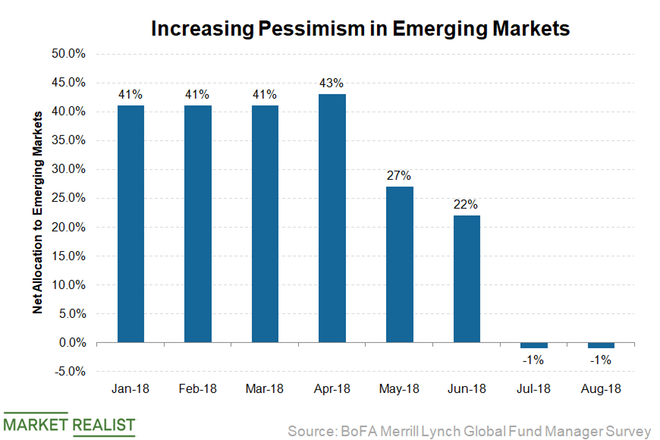 What US Investors Need to Know about Emerging Market Risks
By Anuradha Garg

Sep. 14 2018, Updated 7:30 a.m. ET
Emerging market crisis
Among the emerging market (VEU) currencies, the Argentinian peso, Turkish (TUR) lira, Indonesia rupiah, and Indian rupee are declining to all-time lows. US (SPY)(VTI) interest rates are already moving higher with the Federal Reserve on the path for even more hikes in the quarters ahead. 
The US dollar is also strengthening against all major currencies, including those of emerging markets. As the US dollar strengthens and interest rates rise, the cost of servicing US debt for other countries goes up. This increases the probability of default, especially among the countries with high dollar-denominated debt.
On September 6, the emerging market stocks entered bear market territory for a brief period as the iShares MSCI Emerging Markets ETF (EEM) fell 0.6%. This brought EEM's decline from its January peak to more than 20%. At closing, however, the ETF recouped its losses and closed 0.1% higher.
Article continues below advertisement
Contagion risk
According to the Institute of International Finance, the portfolio flows into emerging markets (EEM) slowed to $2.2 billion in August from $13.7 billion in July. Strategists from J.P. Morgan and BlackRock are also warning of a contagion hitting emerging markets (VWO). 
According to Pablo Goldberg, a BlackRock money manager, "We are having a confidence crisis in emerging markets, with some level of contagion being present." He added, "With the short-term currency moves, it's hard to jump in."
US investors and contagion risks
The US investors, for now, have shrugged off any such fears of contagion impacting the domestic growth story. However, a significant decline in emerging markets could spill over to the developed markets. 
With the interdependence in increasingly globalized markets, a severe impact in one part of the world is expected to be felt in another part. This could occur through the banks' exposure to the impacted regions or presence of businesses there, as well as a general domino effect. This is especially true given the uncertain backdrop of escalating trade tensions.
With concerns of contagion, investors might be in a cautious mode for some time. That could lead to further strength in the US dollar and eventually weigh down gold (GLD).
In the medium to long term, however, allocations to equity markets should stabilize. In the worst-case scenario, if the contagion spreads, then gold prices can rise along with the US dollar (UUP) and interest rates (TLT), as they have done in the past.