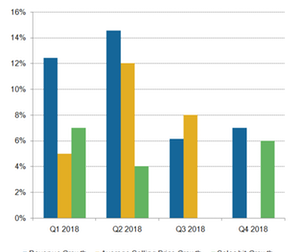 What Factors Influence Micron's DRAM Business?
By Puja Tayal

Sep. 28 2018, Published 7:57 a.m. ET
DRAM business
Micron Technology (MU) earns 70% of its revenue from DRAM (dynamic random access memory) and 26% from NAND (negative AND). DRAM is the memory of an electronic device and a key element in determining its performance.
Article continues below advertisement
Micron's DRAM earnings
Micron's DRAM revenue rose 7% sequentially to $5.9 billion in the fourth quarter of fiscal 2018. DRAM shipments rose 4%–9%, driven by a strong demand from Nvidia (NVDA) and Apple (AAPL), which both launched their flagship products in September.
DRAM ASP (average selling price) was sequentially flat during the quarter as declining prices of commodity DRAM were offset by high-value DRAM solutions such as GDDR6 (graphics double data rate) and cloud server DRAM.
Micron's DRAM gross margin improved from 69% in the third quarter of fiscal 2018 to 71% in the fourth quarter of fiscal 2018 when the company achieved bit shipment crossover on 1X DRAM for clients and graphics. That reduced its production costs and improved its gross margin, even when DRAM ASP was flat. Bit crossover is achieved when the total capacity from the new node surpasses the total capacity from the previous generation's node.
Article continues below advertisement
For the first quarter of fiscal 2019, Micron expects to achieve bit crossover on the output of all 1X DRAM products. It expects DRAM demand to remain healthy during the quarter, even though Intel's (INTC) PC CPU (central processing unit) shortage weakens PC DRAM demand. It expects weak demand in PC DRAM to be offset by a strong demand in other markets such as the data center.
DRAM industry outlook
Micron is currently investing in 1Y DRAM and expects to start production on it by the end of 2019. According to a Bloomberg report, sources stated that Samsung (SSNLF) expects to lower its DRAM bit growth from 20% in 2018 to less than 20% in 2019 to maintain adequate DRAM prices.
Micron expects its DRAM industry output to grow slightly above 20% in 2018 but normalize to 20% in 2019, driven by supply discipline.
Next, we'll look at Micron's NAND business.