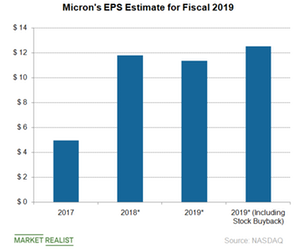 What Conclusion Can Investors Draw from a Micron Analysis?
By Puja Tayal

Updated
Impact of share buybacks on Micron's EPS
Micron (MU) has a lower stock valuation since investors have been cautious about the stock due to its exposure to memory cyclicality. However, its fundamentals are strong.
Micron plans to return $10 billion to its shareholders through a share buyback. The impact of this buyback has been excluded from analysts' fiscal 2019 EPS estimate of $11.36. The buyback would be accretive to Micron's EPS by 15%. A stock buyback reduces the number of outstanding shares due to which net income is divided among the lesser number of shares, thereby increasing EPS.
Article continues below advertisement
If the stock continues to fall, Micron can buy back more shares and even increase EPS 20%. Even if we take a conservative estimate and expect the stock buyback to increase EPS by 10%, Micron might report EPS of $12.50 in fiscal 2019. With the new EPS estimate and a PE ratio of 4.5x, the stock would trade at $56, which represents a 25% upside from its current trading price.
What should investors do with Micron stock?
In this series, we've seen that the movement of Micron stock is similar to its customer Intel (INTC). Investors seem to be overreacting to the memory downtrend and declining server processor market share. However, Micron is reducing its exposure to commoditized memory and focusing on specialized memory that meets the future needs of the data economy.
Micron stock's technical indicators show that the stock is on a downtrend and would decline in the near term. However, the company's strong fundamentals say that it is the right time for investors to buy the stock since it has a strong upside potential.
In the last two years, investors who bought in dips have been rewarded well. The overall memory market is also stabilizing as demand becomes more secular. More devices are using memory chips, including cars and embedded devices. Memory content is also increasing.
Overall, Micron could present a strong "buy" scenario for long-term investors, but we advise investors to look at all the factors we've covered in this series before making any investment decisions.