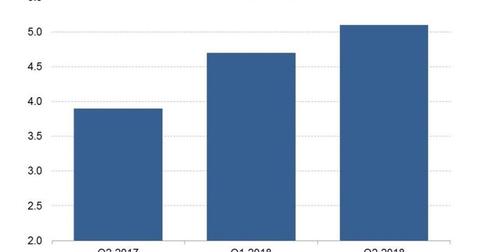 What AT&T's Layoff Announcement Says about Its Strategy
By Ambrish Shah

Sep. 7 2018, Updated 1:15 p.m. ET
AT&T's layoff announcement
In August, AT&T (T) announced a reduction in its workforce by closing its call center in Harrisburg, Pennsylvania. According to an August 28 report by The Guardian, AT&T has closed 44 call centers in the last seven years. The report added that more than 16,000 people in the United States have lost their jobs at AT&T since 2011, "as it continues to shut down call centers to consolidate facilities within the US, or in favor of offshore alternatives in countries such as India, the Philippines and Mexico."
AT&T has continued to lay off employees and outsource jobs despite earning record profits and spending billions on stock buybacks. The company also received an anticipated windfall of $20.0 billion in savings from the Tax Cuts and Jobs Act of 2017.
Article continues below advertisement
First-half profit was $9.8 billion
AT&T reported a profit of $9.8 billion in the first half of the year. This profit implied a $4.7 billion profit in the first quarter, an ~34.4% increase from the first quarter of 2017. AT&T posted a $5.1 billion profit in the second quarter, an ~31.1% increase from the second quarter of 2017.
Verizon (VZ) posted a profit of $8.7 billion in the first half of the year. T-Mobile (TMUS) and Sprint (S) posted respective profits of $1.5 billion and $245.0 million in that period.
In December 2017, AT&T issued a news release stating that it would pay a special bonus of $1,000 to 200,000 US employees over the next year in the wake of the most comprehensive US tax reform in decades. The Guardian noted on August 28 that the "news release omitted that unions had already previously negotiated those bonuses with AT&T before the tax cut bill was passed."