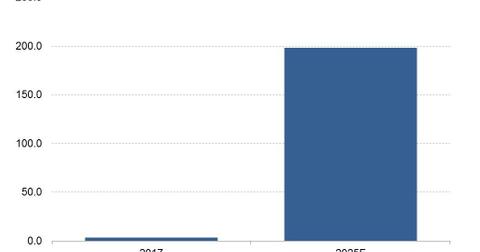 What Akonia Is Set to Bring to Apple's Table
By Ruchi Gupta

Updated
Akonia has over 200 patents
Apple (AAPL) has recently confirmed that it has acquired Akonia Holographics, a Colorado-based startup that specializes in making lenses for AR (augmented reality) devices, such as AR-enabled eyeglasses. Recent reports indicate that Apple is building consumer AR glasses that it could start selling in the next few years.
The Akonia acquisition may be the clearest signal yet that Apple has ambitions to make AR glasses. Akonia has been around for six years, during which its ideas have won it over 200 patents.
Article continues below advertisement
Akonia could help Apple design outstanding AR devices
Akonia is best known for its display technology, which allows for the production of thin, transparent smart glasses capable of displaying vibrant, full-color images. Therefore, in addition to a portfolio of patents that Apple could license to other companies for profit, Akonia brings technology that Apple could use to make outstanding AR devices.
Microsoft (MSFT) and Magic Leap are some companies that already sell AR devices, though these devices are intended for indoor use. Akonia's technology could enable Apple to make AR glasses for outdoor use.
In the AR market, Microsoft has its HoloLens headset, and Magic Leap has its Magic Leap One headset, which went on sale in August. Magic Leap partnered with AT&T (T) to distribute its Magic Leap One headset to wireless consumers.
A $198.2 billion revenue opportunity
The global market for AR systems, devices, software, and services is poised to reach $198.2 billion by 2025, according to BIS Research. AR market was estimated to be worth $3.5 billion in 2017.
Alphabet's (GOOGL) Google and Facebook (FB) are other companies pursuing opportunities in the AR market. Google has invested in Magic Leap, while Facebook is experimenting with AR advertising.