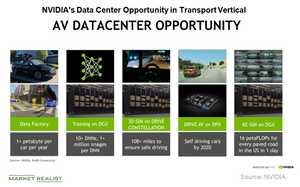 Vertical Industries: NVIDIA's Next Big AI Opportunity
By Puja Tayal

Updated
NVIDIA expands AI to vertical industries
In the previous part of this series, we saw that NVIDIA (NVDA) is witnessing the strong adoption of its Tesla V100 GPUs (graphics processing units) by major cloud companies and hyperscale data centers. They're the early adopters of AI. The chip supplier is also seeing growing adoption of its AI solutions across different sectors like oil and gas, financial services, transportation, and healthcare. Major cloud companies and hyperscale data centers are using AI to derive some actionable insights from the available data.
NVIDIA is working with General Electric's (GE) Baker Hughes in the oil and gas sector and GE's healthcare sector.
Article continues below advertisement
Transportation industry
During the second fiscal quarter of 2019 earnings call, Jensen Huang, NVIDIA's CEO, gave an example of the data center opportunity presented by the transportation industry. He explained that the transport vertical has two dynamics with a huge computing problem—ride-hailing and self-driving cars.
In ride-hailing cars, the biggest computing problem is optimizing the rides—recommending which taxi should go to which passenger. Ride-hailing requires machine learning to come to an optimal match, which creates an opportunity for NVIDIA's high-performance GPUs.
In self-driving cars, every car collects data. The data need to be stored and processed to create neural networks. Every car has to train on those networks. In the next stage, the entire software has to be simulated and stress tested. In the simulation, the trained car can be put through virtually created challenges and its performance can be monitored in a controlled environment ensuring safe driving. Before sending the software over the air, it needs to be replayed to have no regressions. Neural networks, training, and simulation all require GPU-powered data centers, which presents an opportunity for NVIDIA.
Next, we'll discuss another big AI opportunity—Inference.