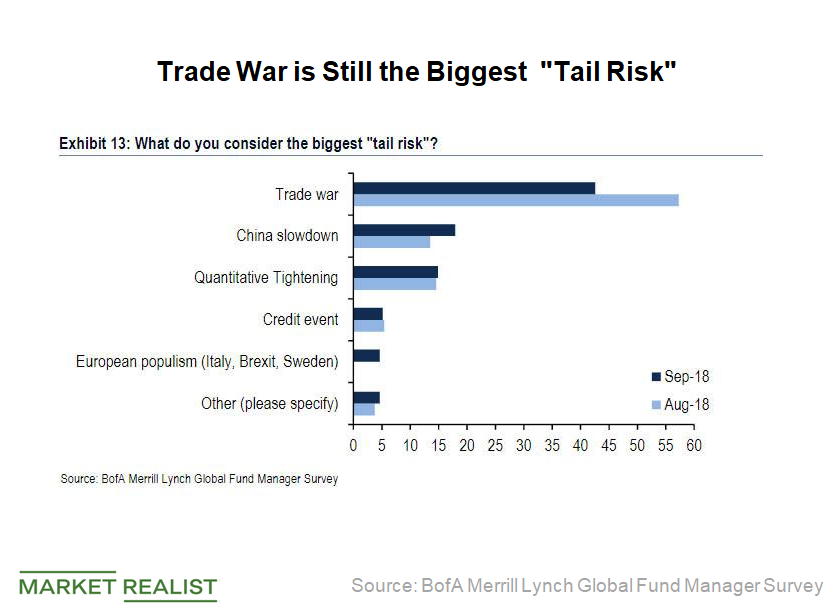 US Economy: Are Investors Ignoring the Trade War Risks?
By Anuradha Garg

Sep. 28 2018, Updated 11:20 a.m. ET
Trade war
The US-China (YINN) trade war has been going on for months. After the second round of tariffs on $200 billion worth of Chinese (MCHI) goods came into effect, the markets started to take the trade war seriously. Since the first level effects of the trade war are clear now, investors have started thinking about the trade war's ripple effect.
Article continues below advertisement
Jamie Dimon
JPMorgan Chase's (JPM) CEO Jamie Dimon mentioned that while the price increases from the trade war are detrimental, the bigger problem will be the second-order effects. In an interview with CNBC, Dimon mentioned that the major problem will be companies' response to cost increases.
He said, "Remember, people do other things. They have other supply lines. But it's a $20 trillion economy. So that is a negative. The real negative isn't that. It's confidence, consistency, if people start reducing investment, if people start moving to supply chains around, that we have seen already moving around the markets a little bit." He also thinks that the effects of the trade wars could easily offset the benefits from regulatory reform and tax reform. In June, Harley-Davidson (HOG) announced that it would move some of its US (SPY) production overseas for its European customers. The move resulted in stringent retaliatory tariffs from the European Union (HEDJ).
Long-term trade war would hurt the US 
According to a simulation carried out by the ECB (European Central Bank), a long-term trade war could hurt the US economy (QQQ) significantly more than China. The ECB published the research on September 26. The authors said that while the scenarios are hypothetical, the results were significant. The trade war could lead to a 2% loss in growth in the first year for the US and a 3% drop in global trade. The authors said that China has diversified its foreign markets. China has added more complex products to the mix, which would make its exports more resilient.