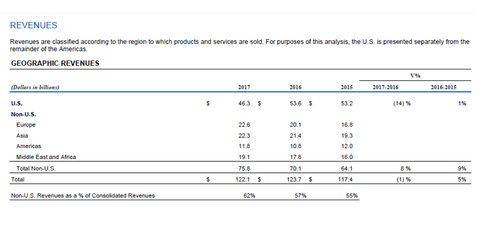 Trade War Could Add to GE's Operating Margin Woes
By Samuel Prince

Sep. 27 2018, Updated 8:00 a.m. ET
US-China trade war
The US-China trade and tariff war is getting worse every day. The clash intensified on September 24 when the US and China targeted each other with the biggest round of tariffs yet. The Trump Administration levied new 10% tariffs on $200.0 billion of Chinese goods just after 12:00 PM EST. The list covers a broad array of products including network routers, industrial machinery parts, food seasonings, and baseball gloves.
China imposed new taxes of 5%–10% on $60.0 billion of US merchandise like clothes, auto parts, meat, and chemicals. The Chinese government's move was an indication of its willingness to engage in a full-fledged trade war with the US.
Article continues below advertisement
Impact on General Electric
In 2017, General Electric received $22.3 billion of its total $122.1 billion in revenues from Asia. The revenues from Asia accounted for 18.3% of General Electric's total revenues last year, which were 17.3% in 2016. General Electric received ~$7.0 billion in revenues from Chinese operations last year, which accounted for 31.4% of General Electric's Asia revenues in 2017.
In the second-quarter earnings call, General Electric's CEO, John Flannery, categorically mentioned that most of the revenues from China come from its Aviation and Healthcare business. Considering the amount of steel and aluminum required to manufacture jets, the trade war will likely impact General Electric's purchase cost. The trade war might reduce the Aviation segment's operating margins.
GE Healthcare has a sizable presence in China, which is one of the major markets for the business outside the US. In General Electric's 10K for fiscal 2017, the company specifically mentioned its thrust in China's market for the Healthcare segment's rapid growth. The huge healthcare market in China is driven by ultrasound and molecular imaging within imaging. General Electric has an MRI manufacturing facility in Waukesha, Wisconsin, where the company uses inputs imported from China. The input costs in the Healthcare division are slated to increase.
Article continues below advertisement
Flannery pegged the trade war cost escalations at $300.0 million–$400.0 million during the second-quarter earnings call. However, the input costs could be higher than Flannery's estimates considering the intensity of the US-China trade war. The trade war and the gas turbine issue at GE Power could put tremendous pressure on the Industrial segment's margins in the coming quarters.
ETF discussion
General Electric stock is included in 77 ETFs' portfolios. The iShares Global Industrials ETF (EXI) has a 2.25% weight on General Electric. Other major industrial stocks included in EXI's holdings are Boeing (BA) at 4.39%, 3M (MMM) at 2.77%, and Honeywell International (HON) at 2.71%.
Next, we'll discuss analysts' recommendations on General Electric and its peers.