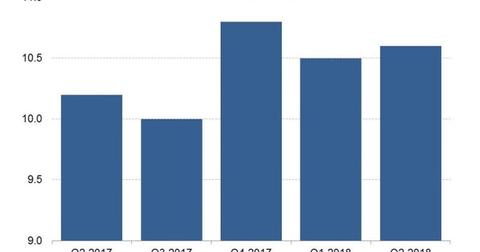 The Latest Twist in the T-Mobile–Sprint Merger
By Sanmit Amin

Updated
The FCC said it needed more time
The FCC (Federal Communications Commission) announced last week that it needed more time to review the possible merger between T-Mobile (TMUS) and Sprint, the third- and fourth-largest carriers in the country.
The two companies are looking to merge, as competition in the telecommunications sector has been squeezing their margins. The CEOs of the two companies have vowed that they will slash prices if the merger goes through. The US government could give the merger the green light, as it fears it will fall behind China in the 5G (fifth-generation) race.
Article continues below advertisement
The combined entity will still be smaller than Verizon and AT&T
The two companies initially discussed the possibility of a merger back in 2014 but backed off on account of concerns about regulatory hurdles. There was also a dispute about who would have a controlling stake in the merged entity.
If the merger does go through and the two CEOs live up to their promise, their competitors Verizon (VZ) and AT&T (T) will likely have to slash their prices too—or differentiate their offerings somehow.
However, even if the merger goes through, T-Mobile and Sprint will still have fewer subscribers than both AT&T and Verizon.
The carriers said that the merged entity would cut costs and develop a next-generation 5G network to provide faster Internet speeds, higher capacity, and lower response times.