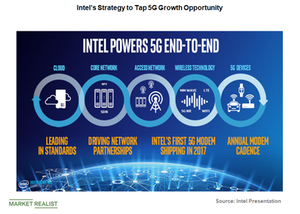 T-Mobile's Deal with Ericsson: Will It Help Its 5G Plan?
By Sophia Nicholson

Sep. 18 2018, Updated 6:31 a.m. ET
T-Mobile's deal with Ericsson
T-Mobile US (TMUS) has recently partnered with Ericsson (ERIC), a Swedish telecommunications company, to support its nationwide 5G (fifth-generation) network deployment. The multiyear deal is worth $3.5 billion. Ericsson, the largest supplier of mobile network technology, will provide T-Mobile with the latest 5G NR (New Radio) hardware and software that are compliant with 3GPP (3rd Generation Partnership Project) standards. The agreement also involves Ericsson's digital services solutions.
T-Mobile will be able to run 5G NR technology with the help of its already-installed base of Ericsson Radio System radios.
Article continues below advertisement
T-Mobile's partnership with other companies
Like Ericsson, T-Mobile is in a $3.5 billion 5G deal with Nokia (NOK). According to the agreement, Nokia will provide its 5G network technology, including software, services, and hardware, to T-Mobile and help make its 600 MHz (megahertz) and 28 GHz (gigahertz) millimeter wave length 5G capabilities compliant with 3GPP 5G New Radio standards.
T-Mobile, the third-largest mobile carrier company, earlier teamed up with Nokia and Intel (INTC) to support an outdoor field in Seattle. It used a 28 GHz 5G commercial radio system on Nokia's 5G commercial AirScale system and Intel's 5G mobile trial platform to deploy its first inter-vendor 5G network. According to Intel, 5G will connect multiple devices simultaneously and offer high broadband speeds. Intel's support in developing a network infrastructure is expected to help 5G services since Intel is already present in almost all IoT (Internet of Things) devices and data centers.
Through these partnerships, T-Mobile expects its 5G network to offer robust connectivity with a large coverage area to create a smoother broadband experience.
According to predictions by Ericsson, 1 billion subscribers will have access to 5G mobile networks by 2023. It anticipated in its Mobility Report that emerging 5G technology will result in more than 9 billion mobile subscriptions by the end of 2023.