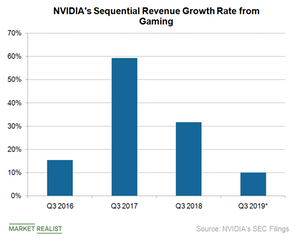 Slow Adoption of GeForce RTX GPUs to Impact Nvidia's Revenue
By Puja Tayal

Sep. 24 2018, Published 1:47 p.m. ET
Slow adoption of RTX product cycle
Initial reviews of Nvidia's (NVDA) new GeForce RTX 2080 GPUs (graphics processing units) were not that exciting. However, that was expected since the new GPUs feature innovative technologies of ray tracing and DLSS (Deep Learning Super Sampling). Morgan Stanley analyst Joseph Moore thus remained "overweight" on the stock with a $273 price target, despite weak reviews.
According to a CNBC article, Joseph Moore stated that Nvidia has to develop a software ecosystem that can help gamers leverage the new technologies of the GeForce RTX GPUs, thereby slowing its adoption compared to its predecessor Pascal. He added that GeForce RTX 2080 Ti is targeted at a niche market, and unless Nvidia gives gamers a reason to upgrade, sales of these new GPUs might remain weak for fiscal 2019.
Article continues below advertisement
Impact on Nvidia's earnings 
Joseph Moore cut its fiscal Q3 2019 revenue guidance for Nvidia since he expects the slower adoption of GeForce RTX GPUs to slow down revenue growth in the short term. That explains Nvidia's weak fiscal Q3 2019 revenue guidance of $3.25 billion against the consensus estimate of $3.34 billion.
When Pascal gaming GPUs were launched in fiscal Q3 2017, Nvidia's gaming revenue rose 59% sequentially. That growth slowed down to 31.6% in fiscal Q3 2018 since no new GPU was launched. We expect its sequential revenue growth rate from gaming to decline to 10% in fiscal Q3 2019 due to the late launch and slow adoption of the GeForce RTX series and strong revenue in fiscal Q2 2019 due to the cryptocurrency boom.
That could also impact Micron's (MU) fiscal Q2 2019 earnings ending on November 30, 2018, as orders from Nvidia decline. The initial reviews of Nvidia's new GPUs sent Micron stock falling 2.87% on September 21.
However, long-term prospects remain strong for GeForce RTX GPUs since features such as ray tracing and DLSS would matter more in the long term.