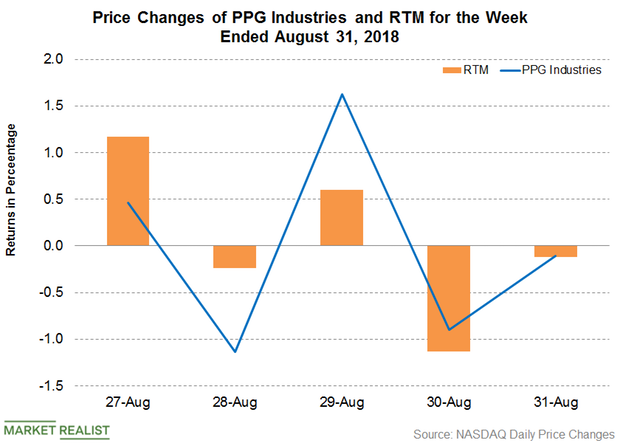 PPG to Build New Research and Development Center in China
PPG's new R&D center
On August 29, PPG Industries (PPG) announced plans to build a new paint and coatings research and development center in Tianjin, China. The center will be located in the Tianjin Economic and Technological Development Area. The research center is expected to be completed by 2021.
This center will further strengthen PPG's R&D in the region, which could mean an increase in PPG's R&D expenditure. In 2017, PPG has spent $474 million on R&D expenses, which represents 3.2% of its sales. At the end of Q2 2018, PPG's R&D expenses were $226 million.
Article continues below advertisement
David Bem, PPG's vice president of science and technology and chief technology officer, said, "PPG continues to enhance its research and development capabilities to ensure consistent, ongoing innovation and service to customers. The new Tianjin R&D center will best position the company to leverage scale, promote collaboration and continue enhancing our capabilities."
Stock price updates
PPG Industries stock remained flat and closed at $110.54 for the week ended August 31, 2018. Despite a marginal decline in the stock price, PPG traded 4.0% below its 100-day moving average price of $106.33, indicating an upward trend in the stock.
PPG has continued its struggle to get into the green so far this year. On a year-to-date basis, PPG Industries stock is still down 5.4%. PPG's peers Sherwin-Williams (SHW) and RPM International (RPM) have gained 10.1% and 26.3%, respectively, while Axalta (AXTA) has fallen 4.8%. Analysts have reduced PPG's target price from $121.80 to $120.20, implying a potential return of 8.7% over its August 31 closing price.
Investors can indirectly hold PPG Industries by investing in the Guggenheim S&P 500 Equal Weight Materials ETF (RTM). RTM declined 1.8% for the week. RTM invests 4.6% of its portfolio in PPG Industries.