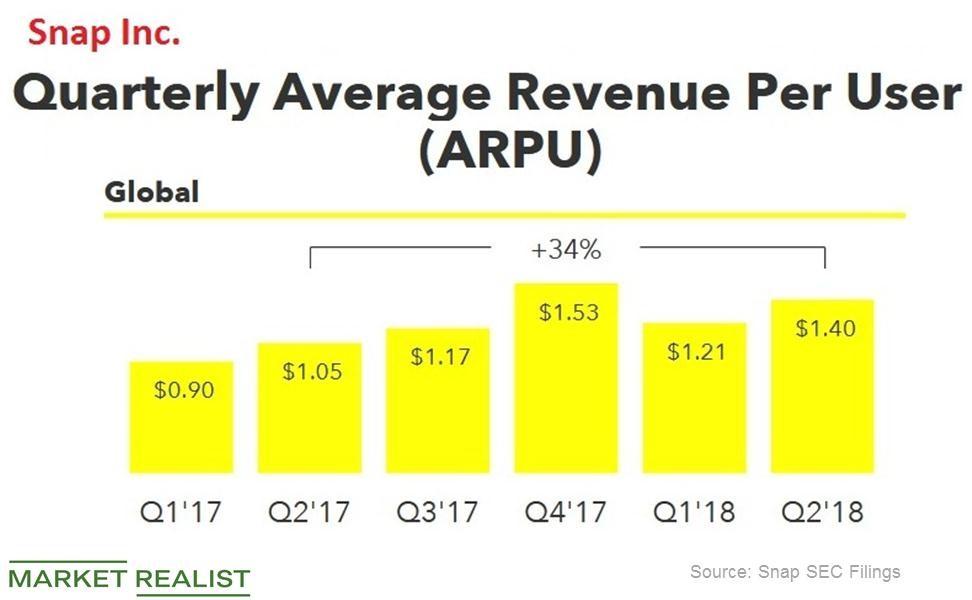 Potential Benefits for Snap in Curated Our Stories
Snap to run ads alongside themed stories
Snap (SNAP) is launching a new feature called Curated Our Stories, which allows media companies to stitch together public posts on Snapchat into themed stories. These could be daily or weekly stories centering on specific events or topics.
Snap has partnered with more than two dozen media companies to produce the themed stories, including Viacom, CNN, and NBC. The themed stories are expected to be funded by ads, and Snap plans to split the revenues with these media partners.
Article continues below advertisement
Earning more from each Snapchat subscriber
With the Curated Our Stories feature, Snap would be able to show its users more content and ads, which could improve its ARPU (average revenue per user). Snap's global ARPU was $1.40 in the second quarter, up from $1.05 in the second quarter of 2017.
Facebook's global ARPU was $5.97 in the second quarter. Although Twitter (TWTR) doesn't break down its ARPU metrics, its second-quarter numbers indicate that its global ARPU was ~$2.12.
Snapchat shed 3 million users
These media partners are expected to feature these themed stories on their platforms in addition to posting the stories on Snapchat. As a result, Snap is poised to garner additional exposure without paying for TV commercials or newspaper ads. Increased publicity could help the company draw more users and advertisers to Snapchat.
Snapchat lost 3.0 million daily users in the second quarter. Snap doesn't disclose how many advertisers it serves, but its advertising revenues rose 48.0% YoY (year-over-year) in the second quarter. As a result, its growth slowed from 146.0% in the second quarter of 2017.
Facebook (FB) has 6.0 million advertisers on its flagship social network and 2.0 million advertisers on Instagram. Yelp (YELP) and Baidu (BIDU) exited the second quarter with 194,000 and 511,000 advertisers, respectively.