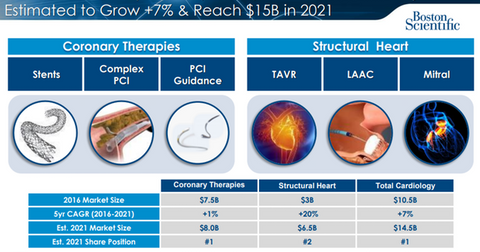 PI and IC Businesses Are Key Assets for Boston Scientific in 2018
By Margaret Patrick

Updated
Peripheral interventions
In the second quarter, Boston Scientific's (BSX) peripheral interventions (or PI) business reported revenue of nearly $304 million, a YoY (year-over-year) rise of ~8.7%. The business continues to report robust sales across all major segments, such as interventional oncology and arterial and venous diseases, as well as across all major markets, especially Asia.
The company continues to witness strong demand for its drug-eluting technologies, such as its Eluvia drug-eluting stent (or DES), its Jetstream system, and its Ranger drug-coated balloon (or DCB), in European markets in 2018. The anticipated launches of Eluvia and Ranger systems in the United States in 2019 and 2020, respectively, are expected to further boost the company's PI sales in the coming years.
Article continues below advertisement
Interventional cardiology trends
In the second quarter, Boston Scientific's interventional cardiology (or IC) business, which includes the coronary therapies and structural heart businesses, reported revenue of close to $662 million, a YoY rise of ~7.6%. The company has revised its 2018 revenue guidance for its structural heart business upward from $400 million to $450 million driven by the higher-than-expected uptake of the ACURATE transcatheter aortic valve replacement (or TAVR) and WATCHMAN devices. The company also expects its acquisition of Claret Medical and its subsequent addition of the only FDA-approved cerebral embolic protection system, SENTINEL, to strengthen its structural heart business in 2018.
Boston Scientific's structural heart and complex percutaneous coronary intervention (or PCI) products continue to witness robust demand in 2018. The company's global PCI business is growing fast due to the increasing prevalence of patients requiring complex coronary interventions, and it may reach the size of the company's global DES business in the coming quarters. Additionally, the launch of MAMBA microcatheters and the WOLVERINE balloon coupled with strong demand in emerging markets is expected to have a positive impact on Boston Scientific's IC business in 2018.
Boston Scientific expects its DES business to witness a YoY revenue fall in 2018.