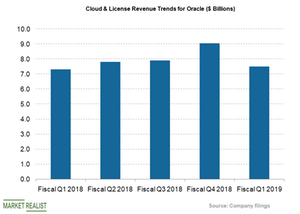 Oracle Is Betting High on Autonomous Database for Success
By Aaron Hemsworth

Updated
Why Autonomous Database could gain market traction
Oracle's (ORCL) Autonomous Database, which can easily be accessed from the cloud, has the potential to mitigate the company's lackluster cloud business. Launched in 2017, it requires less human intervention, saves enterprise costs, and reduces errors. It also offers high security by preventing data theft and boosting productivity. Oracle has integrated machine learning to perform all data management tasks, thus eliminating the need for database administrators.
Article continues below advertisement
These key features are allowing autonomous products to gain higher adoption across the industry. The database is running on a second-generation Bare Metal Cloud infrastructure, which offers more flexibility to its customers. Even large organizations such as Amazon (AMZN), SAP, and Salesforce.com are using Oracle database to run most of their cloud services. Oracle believes that its Autonomous Database will help clients reduce their Amazon cloud service platform by running the Oracle database on an Oracle cloud infrastructure.
Expanding its autonomous database portfolio
From the graph above, you can see Oracle's growth in total cloud and license revenues in the last five quarters. During the period, it grew at a CAGR (compound annual growth rate) of 0.6%. In the first quarter of fiscal 2019, its total cloud and license revenues were $7.5 billion, up 2.4% year-over-year.
In order to drive its autonomous self-driving database portfolio, Oracle introduced two new products, Autonomous Data Warehouse and Autonomous Transaction Processing technology, in 2018.
In August, Drop Tank, a leading loyalty technology and rewards company, adopted Oracle Autonomous Data Warehouse to drive its loyalty solutions for gas station operators. Autonomous Data Warehouse will help Drop Tank not only store data from 3,500 retail locations but also offer its analytics service to make valuable decisions.