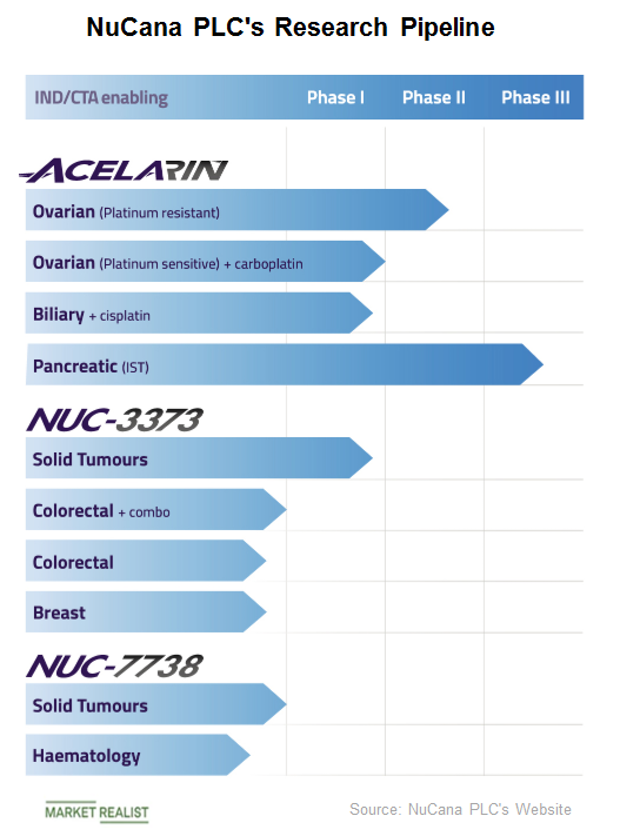 Next-Gen Chemotherapy Pipeline Is a Key Growth Driver for NuCana
NuCana's target price
Based in the United Kingdom, NuCana (NCNA) is leveraging its proprietary ProTide technology to develop next-generation chemotherapy agents for targeting hematological malignancies and multiple solid tumors.
Insiders account for 15.48% of NuCana's ownership, while institutions own 25.1% of the company. The 12-month consensus analyst recommendation for NuCana on September 25 is a "strong buy." The 12-month consensus target price for the company is $39.33, which is 68.08% higher than its closing price on September 25. The highest target price estimate for the company is $54.00, and the lowest target price estimate is $32.00.
Of the four analysts covering NuCana (NCNA) in September, three analysts recommended a "strong buy," and one analyst recommended a "buy." In October 2017, brokerages such as William Blair, Jefferies, and Citigroup initiated coverage for NuCana with "buy" recommendations.
The chart above highlights NuCana's next-generation chemotherapy therapy pipeline. Acelarin is the company's lead investigational therapy and is derived from gemcitabine.
According to NuCana's August 28 press release, the company had cash and cash equivalents of 81.5 million British pounds on its balance sheet on June 30. The company reported a loss of 1.3 million British pounds in the second quarter.
Article continues below advertisement
NuCana's returns
NuCana has reported year-to-date returns of 131.45%. The company has reported returns of -2.17%, -10.21%, 0.60%, and 25.27%, respectively, in the last week, the last month, the last quarter, and the last half year.
NuCana closed at $23.40 on September 25, which was 151.07% higher than the company's 52-week low of $9.32 and 26.88% lower than its 52-week high of $32.00.
In the next article, we'll discuss the growth prospects for UroGen Pharma.