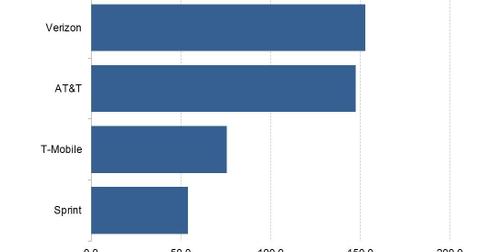 More on AT&T's 5G and Content Plans
By Ruchi Gupta

Updated
AT&T parades 5G suppliers
AT&T (T) is underway with preparations to launch its mobile 5G (fifth-generation) service in 12 US markets in 2018. Rival Verizon (VZ) is on track to launch its fixed 5G service in four markets next month.
AT&T has announced that it is securing telecom equipment and technology from Ericsson, Nokia, and Samsung for its nationwide 5G network build-out. Ericsson predicts strong demand for 5G services, saying there will be as many as 1 billion 5G subscribers globally in five years.
Article continues below advertisement
AT&T wants to own more airwaves
As part of its 5G plan, AT&T recently told the FCC (Federal Communications Commission) that it intends to purchase more specftrum to meet its long-term needs. The communications regulator is expected to hold a spectrum auction in the coming months. T-Mobile (TMUS) and Sprint (S) have indicated that they want to participate in the auction. T-Mobile participated in the previous federal spectrum auction, emerging as the top bidder. Sprint and Verizon did not participate in the auction.
AT&T wants more content
In addition to purchasing additional spectrum and building a 5G nationwide network, AT&T also plans to step up its investments in content, particularly for HBO. AT&T came to own HBO through its acquisition of Time Warner. HBO is battling Netflix (NFLX) in the subscription video market. Netflix plans to spend as much as $8 billion for content acquisition, including original production, in 2018. AT&T may not match Netflix's budget, but it still wants to increase HBO's content supply.
AT&T operates the second-largest wireless network in the United States.