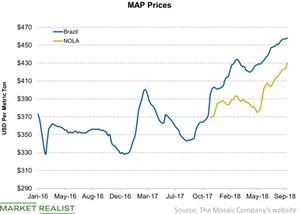 MAP Prices Continued Their Ascent Last Week
By Adam Jones

Updated
MAP prices
MAP (monoammonium phosphate) prices last week continued their ascent unlike DAP (diammonium phosphate) prices, which we discussed in an earlier part of this series. At both Brazil and NOLA (New Orleans), MAP prices remained at an all-time high since the beginning of January 2016.
Article continues below advertisement
Weekly movements
In NOLA, MAP prices rose as much as 1.42% week-over-week to $430 per metric ton from $424 per metric ton a week ago. Compared to $329 per metric ton, last week's MAP prices were almost 29% higher. In Brazil, MAP prices rose by 22 basis points to $458 per metric ton from $457 per metric ton a week ago. Year-over-year, MAP prices in Brazil rose ~32% from $346 per metric ton.
While DAP prices appear to have softened last week, MAP prices remained strong for companies (MOO) including Mosaic (MOS), Nutrien (NTR), and Israel Chemicals (ICL). However, these companies have more exposure to DAP fertilizer, the most preferred fertilizer, than other phosphate fertilizers. To learn more, read Agricultural Fertilizer Industry: Your Comprehensive Overview.
In the next article, we'll discuss prices for potash fertilizers week-over-week and year-over-year.