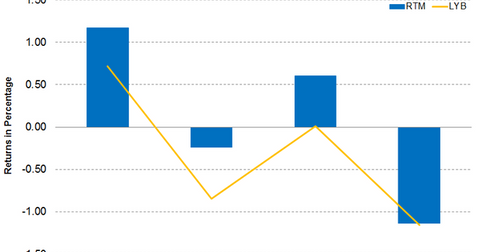 LyondellBasell and Covestro to Start New Project in Maasvlakte
By Peter Neil

Updated
LyondellBasell and Covestro's new project
On September 4, LyondellBasell (LYB) and joint venture partner Covestro announced they had initiated a new project at their site in Maasvlakte-Rotterdam in the Netherlands. The new project involves converting water waste from the existing production plant into energy with the help of innovative technology.
The new initiative is expected to reduce annual levels of carboxylic acid and reduce carbon-dioxide emissions by 140,000 metric tons. This project is a step towards the Netherlands' target to reduce carbon-dioxide emissions by 49% by 2030.
Article continues below advertisement
LyondellBasell's Jean Gadbois, senior vice president of Manufacturing Europe, Asia, and International, said, "The project is an important contribution to the Dutch government's CO2 reduction targets. The Dutch government's support is pivotal to the viability of innovative projects like this Circular Steam Project, which will allow us to realize an annual CO2 reduction equal to taking 31,000 cars off the road and will contribute to yearly energy savings equaling the electricity use of the city of Breda's 90,000 households. This is a great step in advancing towards a more sustainable production."
LyondellBasell's stock performance
LyondellBasell stock fell 3.7% and closed at $108.63 for the week ended September 7. Cowen and Company's target price reduction to $103 did not help the stock much. The decline in the stock price resulted in a trend reversal of its 100-day moving average price. LYB is now trading 2.2% below the 100-day moving average price of $11.12. On a year-to-date basis, the stock is down by ~1.5%. In comparison, peers Celanese (CE) and Eastman Chemical (EMN) have risen 7.4% and 4.8%, respectively, while Westlake Chemical (WLK) has fallen 16.3%. LyondellBasell's 14-day relative strength index of 34 indicates that the stock is close to the position of being oversold.
Investors can hold LyondellBasell indirectly by investing in the Invesco S&P 500 Equal Weight Materials ETF (RTM), which rose 0.4% for the week. RTM invests 4.0% of its portfolio in LyondellBasell as of September 7, 2018.