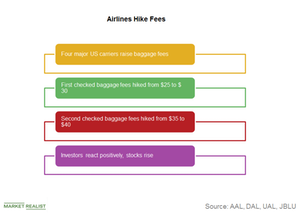 JBLU Changes Tradition with Baggage Fee Hike ahead of Peers
By Ally Schmidt

Sep. 27 2018, Updated 10:31 a.m. ET
Baggage fees
On August 27, JetBlue Airways (JBLU) led the price change in checked baggage fees. It raised the price for the first checked bag from $25 to $30 and the second checked bag from $35 to $40. The fee for a third checked bag was raised from $100 to $150. The move will likely help boost JBLU's ancillary revenues. Ancillary revenues formed almost 3.6% of JetBlue Airways' revenue in the first half of 2018.
Other airlines have also followed suit. Soon after JBLU raised the price of its checked baggage, United Continental (UAL) announced a similar change. Delta Air Lines (DAL) followed up on September 19, and American Airlines (AAL) matched the raised fees on September 21.
Article continues below advertisement
Additional revenue
This tradition of charging separately for every small service is known as "unbundling of services." Through this move, airlines are able to charge extra fees for services like checked baggage, security checks, Wi-Fi, preferred seats, and more.
The tradition of unbundling service charges started way back in 2008 when crude oil prices touched a high of $132 per barrel. As a result, airlines' jet fuel expenses skyrocketed, and basic fare increases could no longer offset the increasing airline costs. By unbundling service charges, airlines found an effective way to remain profitable.
With fuel prices now on the rise, it's natural to see increases in airlines' ancillary fees. What's unusual, however, is that this increase was led by JetBlue Airways. According to JetBlue CEO Robin Hayes, the increase was actually to entice customers into booking a higher fare seat in advance. At the time of initial booking, JBLU's customers can book a "Blue Plus" fare ticket that charges customers for checked baggage in advance. The fees for a checked baggage in the "Blue Plus" fare is $25 and will remain unchanged. Thus, non-blue plus customers will essentially pay higher checked baggage fees.
Investors can gain exposure to JetBlue Airways by investing in the iShares S&P Mid-Cap 400 Value ETF (IJJ), which holds 0.69% of its portfolio in JBLU. Next, we'll look at how JBLU stock has reacted to all this news.