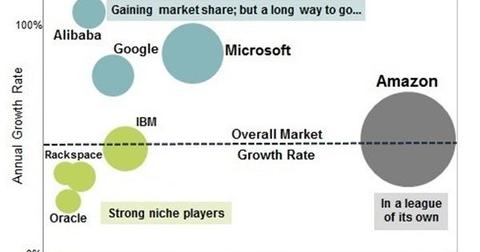 Is Amazon Plowing Microsoft's Field for Free?
By Ruchi Gupta

Updated
Microsoft claims Amazon competes with customers
Microsoft (MSFT) likes that Amazon (AMZN) is expanding into new business areas like financial services and healthcare. Not that it expects to share in Amazon's profits, but the company believes that Amazon's expansion is causing it to compete with potential cloud customers. Microsoft thinks that companies worried about Amazon attacking their businesses will be reluctant to buy cloud services from Amazon and would instead choose Microsoft as their cloud provider.
Article continues below advertisement
Speaking at a Citigroup technology conference in New York earlier this month, Microsoft executive Judson Althoff, who oversees the worldwide commercial business group, said trust was one of Microsoft's key advantages in the cloud market. The executive meant that companies picking up Microsoft cloud services are not worried about Microsoft taking their business. In response to Microsoft's claims about it competing with its customers, Amazon told CNBC that the comments show Microsoft is unable to compete on merit.
Not all retailers have avoided Amazon Cloud
Microsoft in July signed a multiyear cloud contract with Amazon rival Walmart (WMT). Microsoft is also reportedly developing technology that retailers like Walmart could employ to run hi-tech stores like Amazon Go. Amazon retail rivals Costco and Kroger are also Microsoft cloud customers.
But that doesn't mean retailers have given Amazon Cloud a wide berth. Retailers like Under Armour and Brooks Brothers buy cloud services from Amazon.
Amazon commands 34% of global cloud market
Amazon is the world's top cloud vendor with a 34% market share at the end of the second quarter, according to Synergy Research. Microsoft held 14% of the market, and IBM (IBM) held 8.0% of the market at the end of the second quarter. Alphabet's (GOOGL) Google and Alibaba (BABA) command around 6.0% and 5.0% of the global cloud market, respectively.