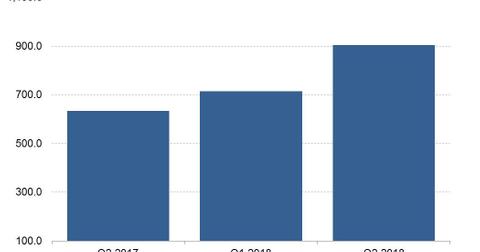 iQiyi Enters In-Flight Partnership as Unit Raises Funds
By Neha Gupta

Updated
iQiyi Sports raises $124 million for expansion
iQiyi Sports, the sports programming arm of iQiyi (IQ), has raised $124.3 million to expand its programming. This expansion is intended to help the company attract more customers and grow its revenues.
iQiyi owns iQiyi Sports in partnership with Super Sports Media. Netflix (NFLX), the world's largest online video provider, has given sports programming a wide berth. However, several online video services are betting on sports content to help attract younger viewers.
Video services betting on sports programming
Google (GOOGL) believes that sports programming is key to encouraging young people to pay for a television service. Google's YouTube TV offers more than 60 television channels, including sports networks. Amazon (AMZN) and Twitter (TWTR) have been engaged in sports programming for some time and are looking to do more in that area.
Facebook (FB) is rolling out its Watch video service overseas and is looking to stream Spain's La Liga matches to its audience in India.
In-flight streaming deal
iQiyi Sports is looking to expand its sports programming, as its parent, iQiyi, recently partnered with Air New Zealand to provide in-flight video streaming services. The partnership with Air New Zealand, New Zealand's flagship carrier, has the potential to help iQiyi and iQiyi Sports reach more premium customers.
iQiyi's revenues rose 51.0% year-over-year to ~$900.0 million in the second quarter. iQiyi went public in March. The company has an affiliation with Baidu, China's leading online search company.