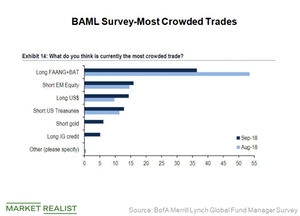 Investors Can't Get Enough of FAANG+BAT, the Most-Crowded Trade
FAANG+BAT still the most crowded
It seems like fund managers can't get enough of technology stocks. They continue to invest in the so-called FAANG and BAT stocks—US stocks Facebook (FB), Apple (AAPL), Amazon (AMZN), Netflix (NFLX), and Google (GOOGL) and China's Baidu (BIDU), Alibaba (BABA), and Tencent (TCEHY). They're the most crowded trades.
According to a BAML (Bank of America Merrill Lynch) survey in August, FAANG and BAT were identified by 36% of respondents as the most crowded trades for the eighth consecutive month. That's down from 54% last month.
Article continues below advertisement
Rising concerns?
The valuations in the US equity markets (VOO) (DIA), especially the valuations of technology stocks, have started to worry investors. It's difficult to say whether these stocks' high valuations are due to a bubble or are actually supported by future earnings growth, but investors are definitely wary of the bull run.
Other crowded trades
The other top two most crowded trades were short positions on emerging market equities (EEM) and the long US dollar (UUP). Short equity was cited as the most crowded trade by 16% of respondents. As a contrarian view, the sell-off in emerging markets could be overdone, and contrarian investors could bet on these equities.
Looking at the long US dollar, it has been the major beneficiary of safe-haven bids in 2018 due to escalating trade war tensions. Investors seem to believe that the United States will be less affected by the trade war than other nations and has a higher chance of winning. That sentiment fuels the demand for U.S. Treasuries (TLT), which includes buying the dollar. The survey response could mean that the bets on a long US dollar are getting extreme, and it could be in for a fall.