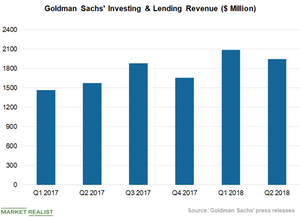 Investing and Lending Segment to Boost Goldman Sachs' Revenues
By Anirudha Bhagat

Sep. 6 2018, Updated 10:32 a.m. ET
Investing and Lending segment
Goldman Sachs' (GS) Investing and Lending segment focuses on private and public equities as well as lending activity across multiple asset classes and regions. This segment has continuously reported significant YoY (year-over-year) revenue growth for the past few quarters, driven by high lending, rising rates, new assets, and private equity gains.
In the second quarter, Goldman Sachs reported 23.0% YoY growth in its Investing and Lending segment's revenues, which reached $1.94 billion. The company registered 67% growth in debt lending. The robust growth in structured debt lending led to a 40.0% increase in the firm's net interest income.
Article continues below advertisement
Equities increased 9.0% YoY, driven by a significant rise in net gains from private equities and partially offset by softness in investment in companies listed on stock exchanges. The company expects these listed entities to deliver weaker returns in the quarters ahead, but its projects continued gains from private equities.
The robust market scenario for private equities has been attracting investment bankers to focus on this space. Investment banks like Morgan Stanley (MS) and alternative managers (XLF) such as Blackstone (BX) and Carlyle (CG) are also focusing on private market equities.
This segment is expected to see continued gains from private equities, decent growth in loans and debt securities, and a marginal increase in management fees in the quarters ahead. Also, this segment is expected to benefit from a higher interest rate spread and increased demand for structured debt due to growth in middle-market companies in the US.
Asset management
Goldman Sachs (GS) has witnessed strong growth in its IM (Investment Management) segment's revenues. In the last reported quarter, the company registered a 20.0% YoY increase in the segment's revenues, primarily driven by higher incentive fees and management fees.
In the second quarter, Goldman Sachs' assets under management increased by $15.0 billion to $1.5 trillion. Also, it recorded an increase of $5.0 billion in long-term assets under supervision, primarily benefited from net inflows of $8.0 billion. This increase was spread across all asset classes, partially offset by net market depreciation of $3.0 billion.