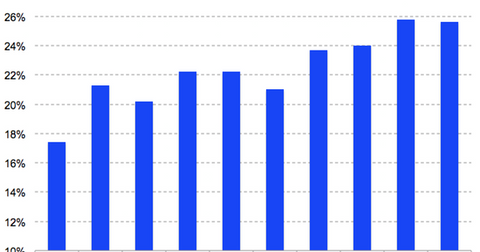 Internet Companies Could Face More Fines from EU
By Sanmit Amin

Updated
EU could fine Internet companies over terrorist content
The stocks of Facebook (FB) and Alphabet's (GOOG) Google have struggled lately partly due to concerns about the possibility of regulations to protect user privacy. Also, US tech giants have been on the radar of the EU (European Union) antitrust authorities for a while now.
The EU is now proposing huge fines for Internet companies that aren't fast enough to remove terrorist content from their platforms. The EU could propose a new law that would make it necessary for Internet companies to remove terrorist content within an hour of being notified.
Article continues below advertisement
EU has increased its scrutiny on US tech giants
The legislation would also make it a legal obligation for those companies to install automated systems to prevent the deleted content from coming back again. EU said that failure to remove such content in the stipulated time would make companies liable to pay a maximum of 4% of their global revenue in the previous year.
Failure to comply with this proposed law would expose Alphabet to a fine of $4.4 billion. Google has already been slapped with two huge fines by the EU on antitrust grounds, amounting to $2.7 billion last year and $5 billion this year.