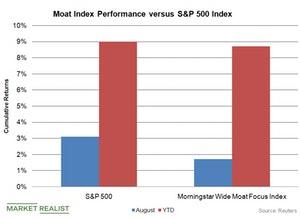 Interested in a Moat for Your Castle?
By VanEck

Oct. 1 2018, Updated 6:58 a.m. ET
VanEck
Companies may also have "narrow moats" meaning their competitive advantages could reasonably be expected to defend them for at least 10 years. Kraft Heinz sported a narrow moat until August 2018, and would not have been in the Wide Moat Focus Index to begin with. Now, lacking a meaningful edge from scale and no significant pricing power, it no longer has a moat. Things change.
Overall, the Morningstar process has historically demonstrated the ability to provide long-term excess returns. The Morningstar Wide Moat Focus Index, for instance, has outperformed the broad market by 3.65% annually through July 2018 since its inception in February 14, 2007.
Over that time period, it has also outperformed the broad market 81% of the time over 3-year rolling periods and 94% of the time over 5-year rolling periods.1
A Moat for Your Castle
Article continues below advertisement
Today, there's no shortage of strategies for equity investing to confuse even seasoned financial professionals, be they factors that distill stock selections into various definitions of quality, momentum, volatility, etc., or some gimmicky weighting scheme that rearranges exposures and potential returns. The idea of "buying good companies at a good price" is easy to understand in concept, and with funds following Morningstar's moat index methodology, putting it into practice can be easier than managing it yourself.
VanEck offers two ETFs and one mutual fund based on the moat philosophy. VanEck Vectors Morningstar Wide Moat ETF (NYSE Arca: MOAT), VanEck Vectors Morningstar International Moat ETF (NYSE Arca: MOTI), and VanEck Morningstar Wide Moat Fund (MWMIX, MWMZX).
Market Realist
Moat index performance
Morningstar provides investors with a choice to include moat stocks in their portfolios with the Morningstar Wide Moat Focus Index or the U.S. Moat Index (MOAT). This index allows investors to invest in US stocks with a wide moat rating that also trade at a discount to Morningstar analysts' fair value estimates. Year-to-date performance for the index is almost in line with the S&P 500. The index gained 1.7% in August and 8.7% year-to-date while the S&P 500 has gained 3.1% in August and 9.0% year-to-date. The index's performance is usually driven by carefully chosen companies with a sustainable competitive advantage.
Article continues below advertisement
We discussed how Campbell Soup (CPB) and General Mills (GIS) hold a competitive edge over their competitors in the previous part of this series. The food industry is a highly competitive sector that includes numerous manufacturers with similar products. Kraft Heinz (KHC), another popular name in the food stock space, recently lost its moat rating from Morningstar since the company's sales have languished over recent quarters. The company's retail relationships are also struggling.
It's essential for companies in these industries to offer an edge over their peers in order to generate higher returns over the long term. Morningstar identifies these companies for you and assigns them an economic moat rating to help investors pick stocks. Investors can consider the VanEck Vectors Morningstar Wide Moat ETF (MOAT), which tracks the Morningstar Wide Moat Index.
But since every investment carries some risk, investors must be cautious before making any investment decisions.