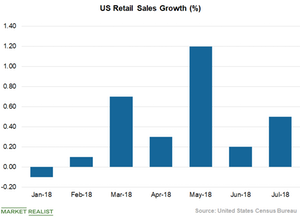 Improving GDP and Retail Sales Could Boost Visa's Platform Usage
By Anirudha Bhagat

Sep. 6 2018, Published 3:38 p.m. ET
Buoyant domestic economy
Improving GDP growth, a healthy job market, and steady wage growth have increased the disposable income of consumers, thereby giving them greater spending power. The US GDP grew 4.1% in the second quarter of 2018, which was almost double the 2.2% increase registered in the first quarter. The growth rate was the highest since the third quarter of 2014.
Moreover, according to the U.S. Bureau of Labor Statistics, the unemployment rate declined ten basis points in July 2018 to 3.9%. The current unemployment rate is hovering around the lowest level of 3.7% since the 1960s. Improvement in the GDP growth rate and a decline in jobless claims show that the US economy is on strong footing. Furthermore, the enactment of President Donald Trump's Tax Cuts and Jobs Act has led to increased cash in consumers' hands, thereby increasing their disposable income.
Article continues below advertisement
These factors are driving retail sales in the US, thereby boosting the digital payment transactions. In July 2018, the US retail sales increased 0.5%, marking the sixth straight quarter of growth. As Visa earns fees from processing digital payment transactions, an increase in usage of credit and debit cards bodes well for the company. In the fiscal third quarter of 2018, the company recorded 11% YoY growth in payment volumes on a constant currency basis and a 12% increase in total processed transactions.
Strong consumer confidence index
According to the Conference Board, the Consumer Confidence Index rose to 133.4 in August 2018 from 127.9 in July. The index reading was the highest since the October 2000 reading of 135.8.
The increase in the confidence index underlines the consumers' belief that the pace of growth will likely continue. This optimism led to an increase in spending, which is undoubtedly a good sign for financial transaction services companies.
Peer performance
The company's close peers are also benefiting from the improving economy and rising retail sales. Mastercard (MA), American Express (AXP), and Discover Financial Services (DFS) reported YoY increases of 20%, 20.4%, and 7.6%, respectively, in their second quarter revenues. Visa and its peers make up ~10.3% of the iShares U.S. Financials ETF (IYF).