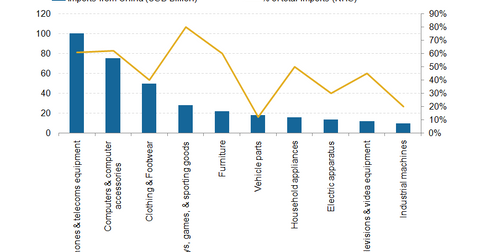 How the Latest Tariffs Could Affect US Businesses and Consumers
By Anuradha Garg

Updated
Impact on businesses
As we noted in US Businesses Push Back against Trump's Tariffs and How the Next Round of Tariffs Could Affect the US Holiday Season, both US (SPY) (IVV) businesses and consumers are expected to be negatively affected by the most recent round of trade tariffs.
Until now, due to tariffs on Chinese products as well as counter-tariffs imposed by China, US agriculture producers and manufacturers have been feeling the most pain. The automotive sector is also among the most affected. General Motors (GM), Ford Motor Company (F), and Fiat Chrysler Automobiles (FCAU) revised their 2018 guidance figures downward in their second-quarter results, citing rising raw materials costs and other factors. The fresh round of tariffs will more directly target US consumers.
Article continues below advertisement
Manufacturers' pain
Following Trump's announcement regarding the latest round of tariffs, industry groups have reacted sharply. CNBC reported that the National Association of Manufacturers' president and CEO, Jay Timmons, said that these tariffs would undo the results of the tax and regulatory reforms.
He added, "With every day that passes without progress on a rules-based, bilateral trade agreement with China, the potential grows for manufacturers and manufacturing workers to get hurt."
China (YINN) is a major source of low-cost raw materials, components, and products for an increasing number of US industries. The imposition of the tariffs and China's counter-tariffs could affect the US tech sector in a major way. Seven major US tech companies (QQQ) (XLK) source more than half of their products from China. Dell (DVMT), Cisco Systems (CSCO), HP (HPQ), and Juniper Networks (JNPR) have warned that tariffs will increase component costs, which could lead to job losses.
US consumers
In addition, the new round of tariffs will likely more directly affect US consumers (XRT). David French, a senior vice president at the National Retail Federation, said the additional tariffs Trump has proposed will equate to "a $70 billion tax increase on American families just in time for the holiday shopping season."