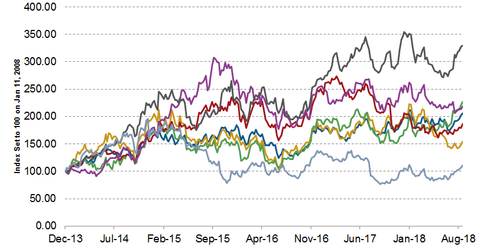 How Is JetBlue Airways Stock Performing?
By Ally Schmidt

Updated
JetBlue Airways stock
September is turning out to be a good month for JetBlue Airways' (JBLU) investors. The stock has gained almost 4.2% in the month. Most other airlines have also managed to earn positive returns for their investors.
Spirit Airlines (SAVE) has gained 3.8% in September, while Alaska Air Group (ALK) investors have earned 3.5%. Southwest Airlines (LUV) has increased investor wealth by 3.2% followed by American Airlines (AAL), which has recorded a 2.3% gain in the period. United Continental (UAL) has also gained 1.6%. Delta Air Lines (DAL) is the only carrier to have recorded a loss in the month. DAL investors lost 1.1% in the same period.
Article continues below advertisement
Year-to-date performance
Airline carriers are having a mixed run so far in 2018. American Airlines is the biggest loser, losing almost 20.5% YTD as of September 24. Alaska Air lost 6.1% in the same time period followed by Southwest Airlines, which has lost ~2.8%. Legacy carrier Delta Air Lines has gained ~4.0% YTD. Spirit Airlines has gained 11.0% in the period. United Continental is the top performer in 2018. It has gained 30.5% YTD as of September 24.
Industry performance
The markets continue to perform well in 2018. The broader market tracked by the SPDR S&P 500 ETF (SPY) has gained 8.4% YTD. The Dow Jones Industrial Average (DJIA) has gained 7.3% during the same time. As air travel is considered discretionary spending, it also makes sense to compare airline industry performance to the consumer discretionary sector. The Consumer Discretionary SPDR ETF (XLY) gained ~16.2% during the time period.