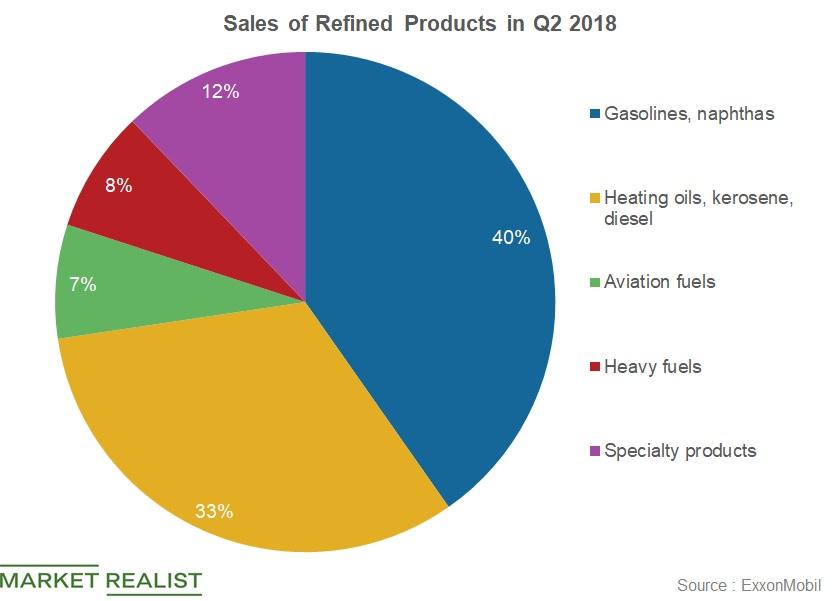 How Is ExxonMobil's Downstream Segment Holding On?
ExxonMobil's downstream performance
ExxonMobil's (XOM) Downstream segment is a savior for the company in a scenario of lower oil prices. The company focuses on expanding this segment to strengthen its integrated model.
Let's look at how XOM's refined product sales stood in the second quarter.
In the second quarter, ExxonMobil's refined product sales fell 1% YoY (year-over-year) to 5.5 MMbpd (million barrels per day) because of a 2.2% YoY fall in gasoline sales and a 3.7% YoY fall in heating oil, kerosene, and diesel sales. However, XOM sold 2.2 MMbpd of gasoline and naphtha—40% of its total refined products—in the quarter.
Article continues below advertisement
XOM also sold 1.8 MMbpd of heating oils, kerosene, and diesel, contributing 33% of its total refined products sold. Usually, everything else being equal, lighter refined products such as gasoline yield more revenues than heavier ones. Thus, the higher the sales of gasoline, the more the company benefits.
XOM's expanding downstream portfolio
ExxonMobil is expected to spend $9 billion on six major refinery projects leading up to 2025. XOM's technological advantage and shift to higher-value refined products are expected to generate more than a 20% return.
For instance, the Rotterdam advanced hydrocracker project refinery is a proprietary technology–enabled project that's expected to double XOM's margin. Other projects include the Beaumont hydrofiner, the Antwerp coker, the Singapore resin upgrade, the Beaumont light crude expansion, and the Fawley hydrofiner.
These projects are aimed at increasing feedstock flexibility and producing higher-value, lighter refined products. The company's consistent focus on optimizing its value chain to derive the benefit of every molecule processed could enhance its downstream earnings.