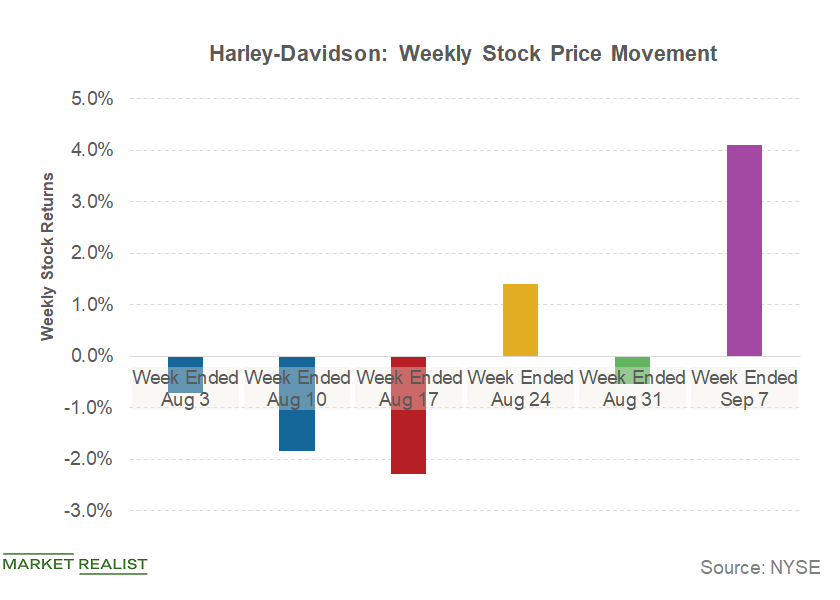 How Has Harley-Davidson Stock Fared since Trump's Tweet?
By Jitendra Parashar

Jul. 17 2019, Updated 8:03 a.m. ET
Harley-Davidson stock
In the week that ended on September 7, Harley-Davidson (HOG) stock jumped 4.1% despite broader market weakness and the sharp fall in the auto sector. Last week, the S&P 500 Index fell 1.0%, while automakers (XLY) General Motors (GM), Ford Motor Company (F), and Ferrari (RACE) fell 5.9%, 2.2%, and 3.2%, respectively.
On September 10, HOG was hovering in the negative territory with a 12.3% fall year-to-date. In 2018 so far, Honda Motor Company (HMC), GM, and Ford have fallen ~2.4%, 17.4%, and 24.1%, respectively.
Article continues below advertisement
Trump and Harley-Davidson
On August 12, President Donald Trump targeted HOG in a tweet, saying, "Many @harleydavidson owners plan to boycott the company if manufacturing moves overseas. Great! Most other companies are coming in our direction, including Harley competitors. A really bad move! U.S. will soon have a level playing field, or better."
In its June 8-K form, Harley-Davidson stated, "EU tariffs on Harley-Davidson motorcycles exported from the U.S. have increased from 6% to 31%." It added, "These tariffs will result in an incremental cost of approximately $2,200 per average motorcycle exported from the U.S. to the EU." If the company passes on these extra costs to its consumers, its already weakening European sales could weaken further.
To avoid high tariffs, the company has decided to shift the production of its motorcycles made for the European market from US factories to international factories. The decision hasn't pleased President Trump, who warned HOG on Twitter that if it were to move to international production, it would "be taxed like never before!"
Possible impact on stock
In August, HOG turned negative again after witnessing minor gains in the previous two consecutive months. Last month, HOG fell 0.6% after rising 2.4% and 1.9%, respectively, in June and July.
Going forward, Harley-Davidson stock could turn mixed to negative again due to tariff threats. The president's consistent criticism of HOG could also keep investors worried.