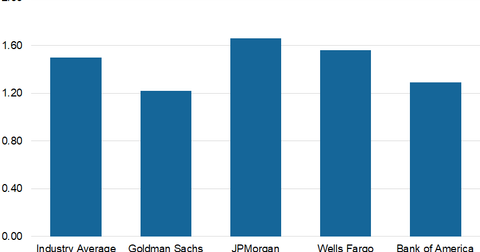 How Goldman Sachs' Low Valuation Affects Its Stock
By Anirudha Bhagat

Updated
Discounted valuation
The PBV (price-to-book value) ratio is considered the best multiple for valuing stocks that have a significant amount of liquid and tangible assets on their books. These assets include insurance, finance, and banking companies.
A PBV multiple that's less than 1.0 signifies that the stock is undervalued and could be considered a good buy. However, finding stocks that are trading below their book values is challenging in a bullish market scenario. So, stocks that are trading below the industry average multiple can be a good option in such a situation.
Article continues below advertisement
Goldman Sachs (GS) stock currently trades at a price-to-book multiple of 1.22x, a massive discount to the industry average of ~1.5x. The stock's valuations are also low when compared to its peers JPMorgan Chase (JPM), Wells Fargo (WFC), and Bank of America (BAC). JPM, WFC, and BAC, which have price-to-book ratios of 1.66x, 1.56x, and 1.29x, respectively.
Price-to-earnings multiples
Relying on a low PBV ratio may not be sufficient, as stock prices also reflect the company's long-term expected earnings growth. A stock may trade at a low PBV ratio due to several factors, including poor earnings, high leverage, a highly volatile business, or whether the company is in a maturing or declining phase.
Investors also consider other valuation indicators such as the PE (price-to-earnings) ratio. Goldman Sachs currently trades at a TTM (trailing-12-month) PE ratio of 10.06x, which is significantly lower than the industry average of 17.94x.
JPMorgan Chase, Wells Fargo, and Bank of America are trading at TTM PE ratios of 14.2x, 13.89x, and 13.93x, respectively. Based on Wall Street's earnings estimates for the next 12 months (or NTM), Goldman Sachs, JPMorgan Chase, Wells Fargo, and Bank of America have forward PE ratios of 9.44x, 11.8x, 11.94x, and 11.11x, respectively.
Goldman Sachs comprises ~6.2% of the SPDR Dow Jones Industrial Average ETF Trust (DIA).