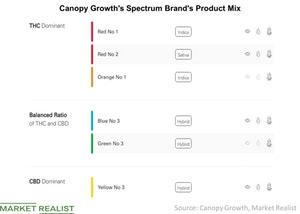 How Cannabis Companies Are Blanketing the Cannabis Market
By Adam Jones

Aug. 18 2020, Updated 6:30 a.m. ET
Blanketing the market
A product differentiation strategy, as the name suggests, entails the creation of unique products that can command higher prices, which, in turn, can result in higher margins. Eventually, consistent higher margins should result in higher valuations and returns for investors.
Article continues below advertisement
Many products
Product differentiation appears to be the primary strategic direction for most cannabis players to blanket the market with several products. That's evident from Canopy Growth's recent announcement that it has secured a listing of 100 SKUs (stock keeping units) on Ontario's online store. Aphria also announced that it will list about 59 SKUs on Ontario's online store.
Canopy Growth's and Aphria's breadth of SKUs provide insight into the variety of products each company will sell in the marketplace. That's going to play an important role in grabbing market share in the recreational cannabis space. However, the task will not be easy, given the wide variety of strains with various THC (tetrahydrocannabinol) and CBD (cannabidiol) compositions.
In the above chart are six categories into which Canopy Growth has classified its medical products. Together, there are more than 30 products in these six categories. We found a similar spread of products for Aurora Cannabis (ACB) (ACBFF), Tilray (TLRY), and Aphria (APHQF).
The challenge, however, for cannabis companies will be the complexity of managing so many SKUs with an expectation of a large recreational market demand compared to the medical market (HMLSF).