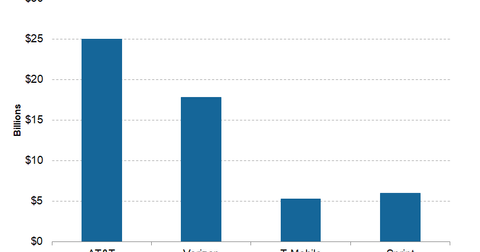 How AT&T Is Improving Its Subscriber Experience through SDN
By Ambrish Shah

Updated
AT&T's SDN benefits
AT&T (T) is concentrating on SDN (software-defined networking) and VNF (virtual network function) technologies to transform its network. The telecom behemoth is planning to achieve rapid service delivery along with efficient utilization of its capital.
Network virtualization offers several ways to quickly fix issues without replacing hardware or dispatching a vendor, both of which can take time. In addition, greater automation gives the company the ability to resolve subscribers' issues more quickly.
Article continues below advertisement
AT&T believes that the combination of its VNF- and SDN-based network technologies could reduce network delivery expenses as well as its SG&A (selling, general, and administrative) costs. These network solutions require wireless carriers to virtualize their networks instead of investing in dedicated fixed hardware.
At the end of 2017, 55.0% of AT&T's network functions were virtualized. The company is on track to meet or exceed its goal to virtualize 75.0% of its network functions by the end of 2020.
Expected capex investments in 2018
AT&T's VNF- and SDN-based network solutions could eventually reduce its total capital expenditures (or capex). Its capex is expected to reach ~$25.0 billion in 2018. The company's 2017 capex totaled $21.6 billion and $22.4 billion in 2016.
In comparison, Verizon (VZ) is expected to spend $17.0 billion–$17.8 billion on capex in fiscal 2018. T-Mobile (TMUS) expects its cash capex to reach $4.9 billion–$5.3 billion, excluding capitalized interest.
Sprint (S) expects its cash capex to reach $5.0 billion–$6.0 billion for fiscal 2018,[1. fiscal 2018 ending March 2019] which excludes leased devices.