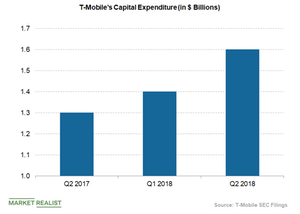 How 5G Deployment Could Impact T-Mobile's Capital Spending
By Sophia Nicholson

Updated
T-Mobile's capex trend
T-Mobile (TMUS) has been consistently deploying new spectrum, improving its network, and increasing capital spending to lay the groundwork for 5G (fifth generation). In the second quarter, it spent $1.6 billion on capex, which is 21% higher than Q2 2017. The continued deployment of 600 MHz (megahertz) spectrum increased its capex in the quarter. For 2018, T-Mobile expects capex of $4.9 billion–$5.3 billion, including spending for 5G deployment.
Article continues below advertisement
T-Mobile on 4G LTE
T-Mobile has been working on its network and distribution and is seeing encouraging results, especially in the Greenfield markets. In the second quarter, its average download 4G (fourth-generation) LTE (Long-Term Evolution) speed was 31.8 Mbps (megabits per second), and its average 4G LTE upload speed was 11.9 Mbps. It was the fastest LTE network speeds among its peers in the past 18 quarters. T-Mobile is the first company to exceed an average download speed of 30 Mbps in the last 18 quarters. At the end of June, ~323 million people used 4G LTE technology. T-Mobile is now targeting 325 million people to use its LTE network in 2018.
The company also started an aggressive deployment of 600 MHz in the second quarter and is expected to launch more than a dozen new 600 MHz–capable smartphones in 2018.
It's also expected to roll out its first nationwide 5G network in 30 cities in 2018, with nationwide coverage in 2020. The network will use 600 MHz and will harness 4G and 5G bandwidths simultaneously for dual connectivity. It will launch its first 5G smartphone in 2019.
T-Mobile's mega-merger agreement with rival Sprint (S) is also expected to create an improved 5G network and strengthen its customer base to keep up with the two largest wireless companies, Verizon (VZ) and AT&T (T). These two carriers have announced their limited-scale rollouts of 5G cellular services by the end of 2018.