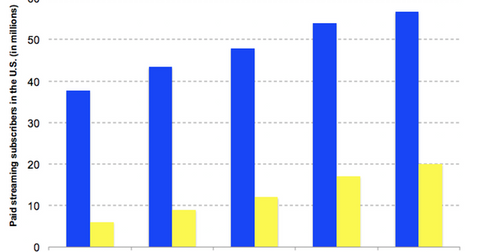 Here's Hulu's Latest Milestone
By Sanmit Amin

Sep. 20 2018, Published 7:05 a.m. ET
Hulu's Live TV streaming service hits 1 million subscribers
Hulu's Live TV streaming service now has more than 1 million subscribers, according to USA Today. The live TV streaming service has added 200,000 subscribers since May. Reaching a million subscribers is quite a feat since Hulu started the service just over a year ago.
Live TV subscribers are growing at a rapid pace. Dish's (DISH) Sling TV and AT&T's (T) DirecTV Now have been increasing their live TV streaming audiences. Sling TV has 2.3 million subscribers, while DirecTV Now has 1.8 million subscribers. It will be interesting to see if live TV streaming providers see similar growth going forward.
Hulu's live streaming subscribers still make up only a fraction of its total subscriber base of 20 million.
Article continues below advertisement
Streaming services are getting more expensive
Live TV streaming subscriptions are getting more expensive, with Sling TV, DirecTV Now, and others hiking their subscription rates. Even video-on-demand (or VOD) providers such as Netflix (NFLX) have hiked their prices, reducing the value gap with traditional pay TV.
While Hulu has a massive library of existing series for its VOD subscribers, it has fallen behind Netflix and Amazon (AMZN) in terms of original content.
Other than The Handmaid's Tale, it doesn't have any other major hits. During the recent Emmy awards, Hulu brought home only four Emmy awards, while Netflix won 23 and Amazon had eight.