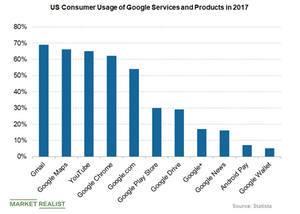 Google Partners with Automakers, Pushing Android into Cars
By Sophia Nicholson

Updated
Google deals with carmakers
Alphabet's (GOOGL) Google has recently entered into a partnership with the Renault-Nissan-Mitsubishi Alliance. Under the alliance, Google will deploy its Android OS (operating system) for infotainment purposes in the cars produced by these manufacturers.
The multiyear deal is expected to help Google's products reach millions of vehicles manufactured by Renault, Nissan, and Mitsubishi. The move is likely to expand Google's user base via the downloading of Google apps and the enhanced usage of Google's products and services.
Article continues below advertisement
How will Google benefit?
Reportedly, the three car manufacturing giants Nissan, Renault, and Mitsubishi will leverage Google's Android OS in their next-generation cars, which will be rolled out in 2021. Google's Android automobile deal will enable people to use Google Maps, Google Assistant, the Play Store, and other vital Google apps from a car's dashboard. The deal will, in turn, help Google expand its footprint in the growing market of in-vehicle infotainment.
Google is already working with carmakers Audi and Volvo for the deployment of Android into the infotainment systems of next-generation cars.
Competition in the in-vehicle infotainment market
As per Statista, infotainment services in the worldwide connected car market are expected to generate revenue of $4.2 billion by 2022 at a CAGR (compound annual growth rate) of 30.4% between 2018 and 2022.
Google's efforts to grow in the vehicle infotainment space will give competition to tech giants such as Apple, Amazon (AMZN), and NVIDIA (NVDA). Apple's CarPlay is used in Toyota's Entune 3.0 infotainment system, which has Siri built in and enables car drivers to see messages, calls, directions, and other notifications on the car's dashboard.
Amazon is working with car companies such as BMW, Toyota, Ford, Hyundai, and General Motors to incorporate Alexa into vehicles seamlessly. NVIDIA's DRIVE, which is an autonomous computing platform for cars, also supports car infotainment systems.